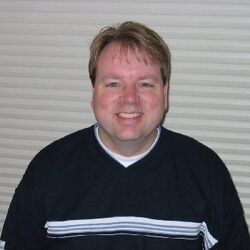 In a vote conducted by recruitment firm TS2, Obsidian's Feargus Urquhart was voted "Most Successful & Respected Executive Producer" in the industry. TS2's website has an interview with Feargus about his career.
"
Feargus got into the industry as a game tester with Interplay in 1993 working on Rock and Roll Racing and developed by Silicon & Synapse, Inc. later to become Blizzard. Actually he had a friend that was working as a game tester there and at the time they were playing D&D. So it all goes back to D&D. His friend who was working at Interplay said that they were looking for game testers and since he was "breathing and did not stink" he was qualified for the job. So it was really a little bit of luck and knowing someone that got Feargus working in the gaming industry. At the time he was going to school for biomedical engineering at UCSD and started commuting back and forth to work. Pretty soon after he realized this was not working out and decided not to go back to school. Although his father is fine with it now the decision did not make him very happy for a couple years after.

While working on Shattered Steel (Bioware's 1st development project) Feargus worked with their external development studio gaining perspective working with an outside team. During the production of Shattered Steel he was still maintaining an internal staff of approximately 60 at Interplay working on a variety of RPG, action and strategy games. Through the next couple years at Interplay, Feargus worked as both the development and publishing producer on multiple titles. Feargus mentioned that this was one of the great things about Interplay. So working on titles such as Battle Chess he was able to gain different perspectives from working cross functionally with internal teams representing both sides of the process. Feargus noted that to be a good producer it helps to have perspective on both sides of the equation to understand where these external relationships with retailers and magazines come into play. In 1996 Black Isle Studios was formed with the namesake coming from the Urquhart's family castle actually located in proximity to Black Isle's in Scotland near Loch Ness. Feargus continued his career managing such titles as Fallout, Baldur's Gate and began the Neverwinter Nights project.

In 2003 Feargus Urquhart, Chris Parker, Darren Monahan, Chris Avellone and Chris Jones started up Obsidian Entertainment in beautiful Irvine, CA to continue their work developing the Neverwinter Nights 2 series and the very successful Star Wars: Knights of the Old Republic II with Lucas Arts. With currently a team of over 120 Obsidian is now working on a couple of unannounced RPG titles and the newly announced Fallout: New Vegas. This newest announced title in the Fallout series has the team working again with the team from Bethesda Softworks.
"
Community content is available under
CC-BY-SA
unless otherwise noted.