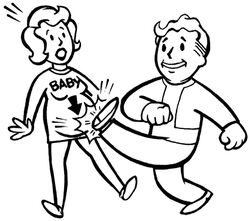 The image used for the Childkiller reputation in the final version of Fallout 2 is the same as for the Hated reputation. As it turns out, a special image for Childkiller was created but was never used. Brian Menze, the artist who made it, shows it on his DeviantArt page and explains why.
"
This image was unused and the only Vault Boy image to ever be cut from Fallout 2. (I'm sure you can figure out why) I remember when I got the request to do a perk illustration for "child Killer" that there would be no way to keep in from being offensive. I mean really! how do you make an illustration of "child killer" and keep it from being offensive? Anyway for some reason, I thought this was the least offensive way to do it. I have no idea what i was thinking. Even the designer who requested it realized it was a bad idea, so we nixed it. Looking back on it now, I can't beleive I drew this.
"
Aside from that, Brian Menze has published other high-quality Vault Boy images and concept art for games like Knights of the Old Republic II and Alpha Protocol on in his DeviantArt gallery.
Community content is available under
CC-BY-SA
unless otherwise noted.