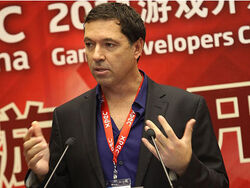 Duck and Cover reports that Brian Fargo, the original founder of Interplay, and currently the CEO of inXile, might be working on a game for Bethesda Softworks. When asked about what he was promoting on his tour of Europe, Fargo said:
"
My Chippendales calendar ;) actually our game that we are doing for Bethesda that has been under wraps for a couple years.
"
— 18 Feb 2010
For now it is unknown whether Fargo was being serious or making a joke. We'll let you know when we know more.
Fargo left Interplay in 2002, after the company was purchased by Herve Caen's Titus. He then went on to start inXile Entertainment, and has mentioned on numerous occasions that he would like to create a sequel to Fallout's predecessor, Wasteland, co-created by Fargo himself. In 2007, inXile hired Jason Anderson, one of the original creators of Fallout, to work on a new, so far unannounced cRPG.
Community content is available under
CC-BY-SA
unless otherwise noted.