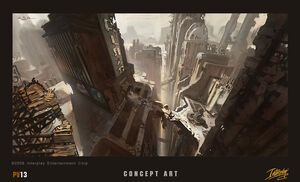 It looks like the legal fight over the rights to Fallout Online no longer consists only of the Bethesda v. Interplay case. Gamasutra reports that Bethesda Softworks has also sued Fallout Online co-developer Masthead Studios, but has just been denied a restraining order against the Bulgarian company. Here's a quote:
This week, U.S. District Judge, the Honorable John F. Walter, denied the temporary restraining order requested by Bethesda against Fallout MMO co-developer Masthead, even before Masthead offered up an opposition to Bethesda's request for a temporary restraining order.
"[Bethesda] has not demonstrated that it will be irreparably prejudiced if the requested ex parte relief is not granted, or that it is without fault in creating the crisis that requires ex parte relief," he argued [via Milford & Associates].
"Indeed, [Bethesda] was aware as early as February 2011 that Masthead was potentially infringing its copyrights... Yet, Plaintiff waited seven months to apply for ex parte relief."
He concluded, "The Court finds that Plaintiff unreasonably delayed in seeking relief, and that the emergency that allegedly justifies a [temporary restraining order] is self-created."
War. War never changes.
Community content is available under
CC-BY-SA
unless otherwise noted.