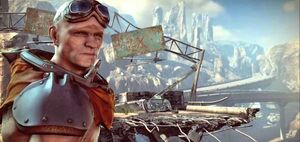 The following was, of course, our April Fools' Day joke:
We have just received a Bethesda Softworks press release, announcing the upcoming release of Fallout: Rage. Apparently, id Software's post-apocalyptic shooter Rage has been reworked into a game set in the Fallout universe after the developer was purchased by ZeniMax Media, Bethesda's parent company, in 2009.
"
ROCKVILLE, Md /PRNewswire/ -- Bethesda Softworks®, a ZeniMax® Media company, today confirmed the upcoming release of Fallout: RAGE®. The game, previously known as RAGE®, will be set in the beloved Fallout® universe. It takes all the action, humor and post-apocalyptic grime and grit of this legendary series, and raises the stakes.

Fallout: RAGE® is the latest game from id® Software, the acclaimed designers of such classics as the Wolfenstein®, DOOM®, and QUAKE® series. Eagerly awaited by the gaming community, RAGE is already being touted as one of the industry's most innovative first-person shooters, winning numerous awards at E3 2010, including 'Best Overall Game of Show' from IGN and three 'Best of E3' Game Critics Awards including 'Best Console Game'. Set after a nuclear apocalypse, you emerge into a vast wasteland to discover humanity working to rebuild itself against such forces as bandit gangs, mutants, and more.

When Lt. Nick Raine emerges from his Vault, he finds the human race has not been wiped out. And people, as resilient as they are, are scraping together a new world from the rubble of the old. This was not what anyone in the Vaults expected–a new society where might is right, mutants plague the Earth, and "friend" is a term for the person who hasn't stabbed you in the back.

"We have decided that instead of developing two separate post-apocalyptic intellectual properties, releasing Rage under the Fallout brand will strengthen the franchise and help the game reach new audiences," says Pete Hines, Bethesda VP of Marketing. "This will allow us to show a whole new aspect of the Fallout® universe. It will be a treat for all Fallout fans and fans of id® Software games alike."

ABOUT BETHESDA SOFTWORKS:
Bethesda Softworks, part of the ZeniMax Media Inc. family of companies, is a premier developer and worldwide publisher of interactive entertainment software. Titles from five of the world's top development studios – Bethesda Game Studios, id Software, Arkane Studios, Tango Gameworks, and MachineGames – are featured under the Bethesda Softworks label and include such blockbuster franchises as DOOM®, QUAKE®, Wolfenstein® , Prey®, The Elder Scrolls®, and Fallout®. For more information on Bethesda Softworks' products, visit www.bethsoft.com.

RAGE, DOOM, QUAKE, Wolfenstein, The Elder Scrolls, Fallout, Prey, Bethesda Game Studios, Bethesda, Bethesda Softworks, id, id Software, MachineGames, Tango Gameworks, Arkane, ZeniMax and their related logos are registered trademarks or trademarks of ZeniMax Media Inc. or its affiliates in the United States and/or in other countries. Other product and company names referenced herein may be trademarks of their respective owners. All Rights Reserved.
"
There is already a wiki about Rage, and given the announcement, we will soon start the process of merging the two wikis. Of course, all Rage Wiki administrators will now become administrators of The Vault.