Fallout tidbits
The
Fallout
tidbits are a summary of various minor articles and newsbits concerning
Fallout games
.
If you want to propose a link to be included in the next tidbit post, simply post it in a comment under this one.
Here's another batch of various small Fallout-related news bits. What does Fallout have to do with Polish politics? And who is likely to get sued by Bethesda Softworks next?
---
A clip from the original Fallout intro has been modified and used in an ad for Poland Comes First party in relation to the upcoming parliamentary election in Poland. I'm pretty sure Bethesda will request it to be taken down soon, so watch it while you still can. The clip was not made by the party itself but by its sympathizer, but it has been posted on the party's official community website. Will we see a lawsuit between a game developer and a Polish political party?
Update: Looks like the video has been taken down. Meanwhile, Eurogamer covered the story after I sent it their way, but they somehow forgot to credit us, they thought that it was "inspired by Fallout 3" and not simply a modification of the Fallout 1 intro (they already corrected this part, but not in the URL), and they wrote that it was produced by the party itself, apparently not having read my post at all. All of these errors have since been repeated by other sites, including Kotaku.
---
Speaking of things likely to be taken down by Bethesda soon, a certain European enterpreneur has decided to bottle and sell an actual Nuka-Cola in Europe. See the website here while you still can, as Bethesda's lawyers are likely writing a cease and desist order as we speak.
---
Mark Morgan, the composer of the Fallout and Fallout 2 soundtracks (released for free as his Vault Archives album), some tracks from which were also reused in Fallout: New Vegas, is now working on the soundtrack for Prey 2, to be published by Bethesda. I wonder if it might mean he could come back for a future Fallout as well?
"
A few minutes ago a cult composer Mark Morgan has officially confirmed our website he and Jason Graves are writing the soundtrack for Prey 2.
As Mark Morgan told Game-OST, he is responsible for that part of ambient and electronic music in general, while Jason creates an orchestral tracks. We will find out the details during creation of the soundtrack.
"
---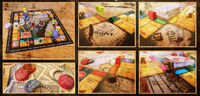 A girl made a Monopoly board based on Fallout 3 as a present for her boyfriend. See the details at BoardGameGeek and Deviant Art.
---
The Gaming Liberty interviews voice actor Wes Johnson, known to Fallout fans as the voice of Fawkes and Mr. Burke in Fallout 3. Here's a bit:
"
My time in the Imperial City helped my obsession for immersion when voicing characters for Fallout 3. I had played Fallout and Fallout 2 shortly after Morrowind, and eagerly re-explored them before creating a new, angrier breed of mutants for the East Coast.
I spent so many hours wandering the wastelands with the intelligent Super Mutant Fawkes that my wife almost had me legally declared missing. But I was easy to find, sitting in front of a big screen, yelling at my mutant self to shut the hell up and to stop killing everybody before I could get a chance. Schizophrenic, indeed. For the Fallout 3 expansion Broken Steel, Mark Lampert asked me to play a character named Squire Bigsley. Since I hadn't really used it on any character so far, he asked me to perform Bigsley closer to my own natural voice. I did, although Bigsley was a very disgruntled, completely lethargic version of me. Yet even from that session, I learned something new to take with me into my next voice acting adventure.
"
---
And finally, someone managed to make a working Pip-Boy 3000 prototype. See it below: