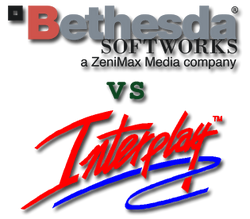 Legal war never changes. After Bethesda Softworks' motion for preliminary injunction against Interplay Entertainment was denied again, Bethesda now appeals the court ruling on that again as well. Here's a quote from the latest court filing:
"
IN THE UNITED STATES DISTRICT COURT FOR THE DISTRICT OF MARYLAND

Southern Division (Greenbelt) BETHESDA SOFTWORKS LLC, Plaintiff/Counter-Defendant, v. INTERPLAY ENTERTAINMENT CORP., Defendant/Counter-Plaintiff. Civil No. 09 CV 2357 (DKC) NOTICE OF APPEAL Notice is hereby given that Bethesda Softworks, LLC, plaintiff/counter-defendant in the above-captioned case, hereby appeals to the United States Court of Appeals for the Fourth Circuit from the order denying its motion for preliminary injunction stated in open court on the record by the Court on August 4, 2011. Date: August 9, 2011 Respectfully submitted,

FRIED, FRANK, HARRIS, SHRIVER & JACOBSON LLP
"
After their previous motion for preliminary injunction was denied, Bethesda first fired their law firm and hired a new one, and then dropped the appeal. Will history repeat itself again in these regards as well?
As a reminder to those who are not well versed in legal terms, a preliminary injunction would prevent Interplay from continuing its work on Fallout Online and its sale of the original Fallout games, including the Fallout Trilogy pack until the final verdict on the Bethesda v. Interplay case is made. Even without preliminary injunction, Bethesda may still prevail in the case as a whole.