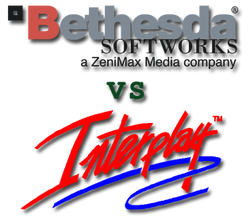 Here's another episode of our continued coverage of the Bethesda v. Interplay courtroom drama.
During a motion hearing held earlier today, Bethesda's partial motion to dismiss Counts I and II of Interplay's recent amended counterclaim was argued in court and denied by judge Deborah K. Chasanow. As a reminder, Bethesda wanted the court to dismiss Interplay's counterclaim because the agreements that, according to Interplay, Bethesda has breached, are "clear and unambiguous" and that "no cause of action for breach has been stated" as, according to Bethesda, the agreement clearly does not require Bethesda to allow Interplay the use of any Fallout intellectual property assets other than the name Fallout itself for its Fallout Online MMO. The court's denial to dismiss the motion does not necessarily mean that the judge agrees with Interplay's interpretation, simply that Bethesda's interpretation is not as "clear and obvious" enough to dismiss it.
Additionally, however, the court stated that Interplay has until February 7 to comply with the court's yesterday's ruling on Bethesda's "Motion to Compel". Judge Chasanow dismisses some of Interplay's objections, stating that:
"
Many of Interplay's responses to Bethesda's discovery requests – including many of its supplemental responses on the motion to compel - are boilerplate objections. These objections are not useful and the parties are urged not to use them.
"
Interplay is ordered to provide within 14 days:
The monthly sales of pre-existing Fallout games worldwide, including Fallout Trilogy, in dollars and units in order to establish any damages from Bethesda's trademark infringement claim
A response to "contention interrogatory" that seeks to glean the factual basis for Interplay's claim that it complied with the Trademark License Agreement's ("TLA") financing provision
Facts concerning any financing it secured after April 4, 2009 and any development efforts after the same date
Documents documenting the company's relationship with Interactive Game Group and Masthead Studios
The long-form agreement with Masthead Studios
Documents concerning packaging for the Fallout games
Documents concerning distribution for the Fallout games
Documents relating to Interplay's affirmative defenses of estoppel, waiver, ratification, acquiescence, consent, laches, and unclean hands
Documents relating to Interplay's counterclaim
Documents relating to Glutton Creeper, an Interplay licensee
Interplay is not required to reveal privileged information, but "must expressly assert the claim and describe the withheld material" Due to Interplay's hesitancy to provide some trade secret design documents as court evidence, they are to be provided only to Bethesda's outside counsel and not to any of Bethesda's "business decisionmakers," including its in-house attorneys, and are to be designated "Confidential – Outside Counsel's Eyes Only". .
The judge also states that Interplay is mistaken when suggesting that Bethesda's requests improperly state the terms "Minimum Financing" and "Full-Scale Development" "as fact" and do not meet the specificity requirement of Federal Rules of Civil Procedure. According to the court statement:
"
The terms are found in an agreement that Interplay signed, and it is not unreasonable to expect that Interplay could form some good faith understanding of what Bethesda is asking for.
"
Both parties will jointly advise the Court of any discovery disputes by March 1, 2011.
Community content is available under
CC-BY-SA
unless otherwise noted.