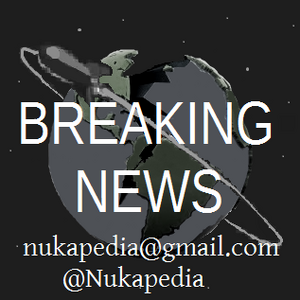 Welcome to another Nukapedia News Blast - where we continue our coverage of www.thesurvivor2299.com; a possible Fallout 4 teaser site.
From Last week
Twitter and Tumblr accounts
The creator of these has confirmed that they are fake, and have no relation to the website. The Tumblr Account creator intends to restart the story of Ella Deux and Co in a few weeks. You can see all of that on our last blog
Website
On 14 November a website called www.thesurvivor2299.com appeared on the web.
This was followed by a European Trademark
This has not been matched by a US or Australian trademark - HOWEVER, Fallout 3 isn't trademarked in either of these jurisdictions (just "Fallout"), suggesting that with the Fallout mark, adding a number is not required in these jurisdictions.
On 14 November a website called www.thesurvivor2299.com appeared on the web.
The Website was registered through GoDaddy to Zenimax Media, IT Department. The registration/WHOIS contained the correct corporate information for Zenimax Media. Zenimax Media is the owner of Bethesda Softworks
However, Zenimax Websites are typically registered through CSC Corporate. This doesn't make it impossible, but unreliable, there is no verification of the registration entere. see the whois information for fallout4garyindiana.com for just how much nonsense can be put in.
This is not without precedent however - Blizzard did use GoDaddy for one of their products
The Website was originally hosted on a Polish Web Sever
This makes little to no sense. Zenimax have no current offices or operations listed in Poland.
The site was then moved to an IP registered to Baltimore, Maryland, operated by ReliableHosting
This allowed the first octet of the sites IP address of the site to match the IP address range owned by Zenimax. However it is still not within the IP Address range owned by Zenimax
Zenimax's IP address show as being owned by Zenimax, not RelaibleHosting.
Traceroutes suggest that this is held in a different datacente to Zenimax's other sites
The site does not use the normal Zenimax name servers.
The code contains references to Fallout and Bethesda's YouTube channel
The code contains numerous errors and inconsistencies that do not suggest a professional job.
The code for the timer contains a link to a Polish Web Developer's portfolio.
The site contained some morse code, that has been suggested to mean 11-12-13. The countdown timer seems to point to this date as well
The site uses the same font as previous Fallout games.
There is also a youtube channel but with no videos as of yet.
A Vault Tec logo was added after the timer was put up.
New this week
The Las Vegas Guardian-Express has what they think is the audio from the next Fallout Trailer, revealed on Reddit. They also mention a load of scepticism on this from Reddit... particularly as the user had only just created his account - Suspicious alert.
Some reddit users have suggested the "owner" of the site works for a company called AKQA, a marketing company who were responsible for the "prepare for the future" Fallout 3 campaign. The names between the supposed owner and the supposed employees are not 100% matches.
The morse message has changed a few times, to include the Oscar Zulu message from Fallout 3.
Messages started to appear on the main website
ZL QRNE FVFGRE. V'Z URNQVAT GB GUR VAFGVGHGR. TBQ XABJF JUNG UNCCRARQ GB GUVF CYNPR ABJ. GUVF BYQ ONFGNEQ JVYY URYC HF. UR ZHFG URYC HF. --0321--
Translating to: MY DEAR SISTER. I'M HEADING TO THE INSTITUTE. GOD KNOWS WHAT HAPPENED TO THIS PLACE NOW. THIS OLD BASTARD WILL HELP US. HE MUST HELP US. —0321—
Another message has been found on the site
LET- GRZ XJG XRS FWZZR GOS UIEG SII GZVZI || GRZ SAW XRS SAZZ XJG DZVB GRZ XUJIZ
Apparently decoding to: 1 2 2 7 2 0 1 3 || 1 1 2 5 2 0 1 3
these seem to be dates.
The Following message currently appears on the site:
BFT [CAP] # 11/25+12/27 # CASE/SUPPR-LET - | IBFQ WLXE UHH KQV WJMT RAEE NURKV MSKKAELWH ZGMCAEP NBK
Apparently this decodes to "the quabbin reservoir is seven zero four two two nine nine"
The Quabbin Reservoir is the major water source for Boston.
A message now removed said:
Nuclear winter is coming. Reserve your future home today! 877-260-2299" Calling the number resulted in the Tranquility Lane theme from Fallout 3 playing, as well as more Morse code.
There is reportedly a message that says nuclear winter is coming, and suggesting a December 1 reveal (however, this does not appear for me).
11/25 would be tomorrow in the US date format. Does this mean we can expect something tomorrow. We will keep you updated tomorrow with round the clock coverage.
From the official side

There have been no tweets from Bethesda on the subject. There have been on other subjects however, including new Fallout merchandise at the online Bethesda store.
With the Exception of the European Trademark for Fallout 4 (which does not prove the validity of this site), anything only Bethesda could do in this campaign, has not been done. The things that have been done could have been done by anyone dedicated enough to do so.
No DMCA Takedown notice, or copyright claim seem to have been filed.
Hypotheses
It's real
It's the work of a Polish web developer to drum up business
It's an elaborate practical joke
We're not calling this confirmed, as we're still short a smoking gun. For everyone who tells me X,Y or Z confirms its true, I have another telling me it confirms the opposite.
We'll have more coverage, as it happens - especially on the 25/11 and when the countdown hits zero. Thanks to Chris The Sayian, Peace n Hugs, and everyone who provides a comment
Rolling Coverage
00:58, November 25, 2013 (UTC) New Code: "Bridgeport, this is Concord (MA), message: Quabbin Reservoir is hit, repeat, Quabbin Reservoir is hit" 12:57
22:46, November 25, 2013 (UTC) One of our commenters adds this decode of a further message that appeared, but we haven't been able to independently verify the existence of the original, or the decode:
NCRA UNIT BST 314 7 EMRG MSG NEW YORK STAGE 7 WASHINGTON STAGE 7 LOS ANGES [sic] STAGE 7 AUSTIN STAGE 7 CHICAGO STAGE 7 NEW ORLEAN [sic] STAGE 7 LAS VEGAS UNKNOWN MIAMI STAGE 7 DALLAS STAGE 7 DENVER STAGE 7 SAN DIEGO STAGE 7 SAN FRANCISCO STAGE 7 BOSTO (message ends without finishing Boston's status)
19:36, November 26, 2013 (UTC) thanks to Chris the Saiyan - CQ CQ CQ DE VT 2510730 ONE SIX EMRG VT SHLT FER SURV QBN NR 119 ii EMRG VT SHLT FER SURV QBN NR 119 K Which likely translates to "Calling all stations, calling all stations, calling all stations, this is (vault tec?) 2510730 one six emergency (vault tec?) shelters for survivors in quabbin, no.119, repeat, emergency vault tec shelters for survivors in quabbin, no.119, over"
00:51, November 28, 2013 (UTC) Morozov reports morse is now playing CQ CQ CQ BST IS GONE II BST IS GONE N HPE FREQ 3450 RT GB AMERICA Which likely translated to "Calling all stations, calling all stations, calling all stations. Boston is gone, I repeat, Boston is gone. No Hope. Frequency 3450 Return Transmission. God Bless America."
27 November - Trademark Apparently Fake
We can confirm after independently verifying ourselves that the European Fallout 4 Trademark has been withdrawn. There are now only Trademarks for "Fallout" and "Fallout: New Vegas".
CVG believe this to be in a series of fake submissions.
Its perhaps a little early to call it, but we're almost certain that the survivor site, as a result is fake. As you were.
Community content is available under
CC-BY-SA
unless otherwise noted.