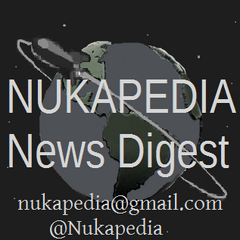 Welcome to the Nukapedia News Digest: Now with Fallout news. Really, so stop bugging me about it.
In your edition this week.
Around the Wiki
Richie9999 has picked the Images and captions again.... Would you like to pick the pics? Get in touch.
Richie is responsible for the Caption choices this week. Please flame him (even if you like them).
What, Fallout News, on a Fallout wiki?
Actual Fallout News
Some good news this week, if you haven't heard already, Fallout 1, 2 and Tactics are back on Steam. The games have been updated with High Res Patches, and windows 8 compatibility, and Fallout 1/2 now work with Steam Cloud. Fallout Tactics multiplayer however only works with Direct connections (I guess they couldn't pull out all the old Gamespy code. Whats a Gamespy? I have no idea either).

And Just for you, the games are 50% off, or 35% off the already reduced bundle price until the end of the month. Well, you and every other guy, and their mothers.




There are also savings on Fallout 3, New Vegas, and the DLCs. What are you waiting for, get spending!
Wasteland News
More Games!
Whats that? Got Fallout already? Then go buy Wasteland 2, its 33% off on Steam this week. If you're a Kickstarter Backer, and haven't yet gotten a Beta Key, you're in for a treat! You now have beta access. go log in and get it.
Chris Avellone News
When the moon hits your eye, like the pictured game guy, thats Avellone.....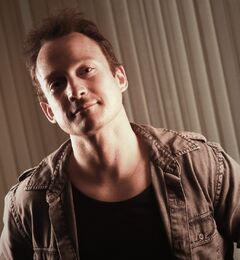 If you must have everything Avellone, then you must have the new book for PnP game "Accursed"
"
Since the colonization of Morden, Hebron and Hyphrates shared an enmity. In part, this was because of their nearness and competition for many resources. Their cultural differences, however, served to intensify the division as well. Hebronites are generally far more devoted to family, while Hyphratians tend to embrace personal goals. These differences often triggered misunderstandings and hostilities between the two cultures, leading to an endless series of conflicts. Much of this was swept aside in the face of the Grand Coven, when all the nations of Morden cooperated under the banner of the Armies of Light.

Sand and Stone provides additional information about the nations of Hebron and Hyphrates within Accursed's setting of Morden. It includes a broad range of different adventure hooks for GMs and players looking to explore these specific regions. It also introduces three new banes as well as Hindrances and Edges specific to these cultures.

Accursed provides additional details about the setting used in this scenario, and is required to fully make use of the game mechanics presented. Savage Worlds and the Savage Worlds Horror Companion are also required.
"
Working for a Fallout-making company
The views are in

Gameskinny have done some interesting Data pulling from Glassdoor.com where people can rate their company, and have worked out that Obsidian are the 4th highest rated company to work for, and Zenimax are 12th. Valve are number 1.

But we thought we'd go a little further, and pull some reviews from Glassdoor....




"

Pros – Lots of freedom to try new things and add content to the game. You know people will always know your games (even if you see just about no personal reward from having done so). Looks great on a resume.

Cons – Sink or swim attitude to employees. No chance for promotion, because there'll never be new senior positions available unless someone dies. Weirdly petty politics at higher levels. CEO is actively demotivational and hostile to the idea of improving things for the actual game developers. Atrociously low pay--couldn't afford to keep working for them, even after shipping an award-winning title. Advice to Senior Management – Pay your people reasonable salaries and invest in the future.

Yes, I would recommend this company to a friend – I'm optimistic about the outlook for this company

"

"

Pros – * Amazing IPs, some of the very best the industry has to offer
* The opportunity to work with some of the most talented people in the industry
* Fair pay & benefits
* Financial support and investment from upper management in projects they believe in

Cons – * Upper Management is very conservative, outdated, disconnected from workforce and filled with power driven egos
* Feels more like an "Empire" than a meritocracy
* Unrealistic expectations in terms of performance
* Maximum accountability with little operational support
* Bureaucracy and politics on expenses Advice to Senior Management – Hire the best the industry has to offer to provide the best support from the top down. Be more in touch with your people and their generation. This industry is more about vision and innovation than conservatism and process.

No, I would not recommend this company to a friend – I'm optimistic about the outlook for this company

"

"

Pros – Great company culture.
Casual work environment.
Employees are passionate all the way up to the top levels.
Management works hard.
Employees know their fields.

Cons – In my experience, Obsidian seems to be routinely pushed around by the publishers they work with. This leads to rushed launches and, in some cases, making implementing poor designs because of the publisher's whims.

Yes, I would recommend this company to a friend – I'm optimistic about the outlook for this company

"

"

Pros – Transparency. Obsidian's owners are very clear and open about that is going on with the studio. Anything from new projects to financial stability.
The artists are eager to learn and willing share new techniques and experiences.
The absence of "climbing the corporate ladder" is a welcome feeling having come from both of the other "big" corporate studios.

Cons – Minor issues like parking lot locations, not having the newest office furniture or computer hardware come up because of being a cost conscious independent development studio.

Yes, I would recommend this company to a friend – I'm optimistic about the outlook for this company

"

"

Pros – High Creative energy.
Interesting projects and pitches
Studio attempts to make development team happy

Cons – No strong gameplay emphasis
Poor production scheduling.
Overly Top heavy management.
Layoffs are frequent as well as mismanagement of talent.

No, I would not recommend this company to a friend

"
Community content is available under
CC-BY-SA
unless otherwise noted.