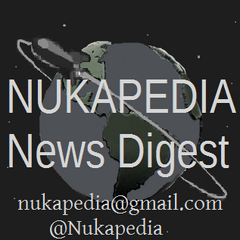 Welcome to the Nukapedia News Digest. All we are sayyyyyyyyyy-ing, is give news a chance.
In your edition this week:
Around the wiki
Quoting as an art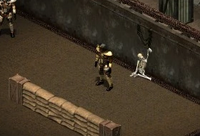 "
That's far enough! I knew I smelled Brotherhood in the air. I've been studying up on you military types since I first heard you were sniffing around this region. But I gotta tell you, I aint impressed. What were you going to do anyway? Kill little old Gargantua? I don't think you even have enough ammo to piss me off! And wait, don't tell me! You're all little Initiates, aren't you? Haha! You mean to tell me that they couldn't even rustle up some Paladins to take me on? You know what that is? That's disrespect! Nobody, NOBODY disrespects me! I'm gunna do things to you that a lonely tribal wouldn't do to his neighbours brahmin! But don't worry, by that time you'll already be dead. You should've just walked away. Mwaahahahahaha.
"
— Tactics demo antagonizer Gargantua, when confronted with the Warrior.
Last Weeks Caption

Vote now in the box below, and we'll Tumblr the winner next week
Pick your Caption of the week
South Park: Stick of Truth Censored
What The F#CK?

Ubisoft have been in the news this week for their choice to censor South Park: The Stick of Truth in the European, Middle East and Australian markets.

Whats worse is that Ubisoft tried to censor this until AFTER the game was released. The Press release they issue was embargoed until launch day - obviously hoping to keep this quiet until after people had already purchased the game.

In all 7 scenes have been censored, each of 20 seconds each, and are:
An abortion performed on the player
An abortion performed on "Randy" (I presume this is Randy Marsh)
Five anal probing scenes
Before you blame the "Gubmint" Ubisoft have made these cuts themselves for "marketing purposes". Instead there will be an image background and some text by Matt & Trey.

"

Sadly, we can't comment other than to say that some of the censored content is pretty damn funny too, IMO. We weren't deciders.

"

— Obsidian Twitter

State required censorship is one thing. Prior restraint when its not required is another.
Attention Nukapedia Shoppers
Wrap
Relic of the war that wasn't.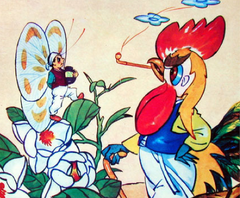 Long time readers will know of my fascination with North Korea; a reminder that the war that wasn't actually was, and still is.

So it was with some fascination I read this BBC News piece showcasing some children's books written by the late, founding president of North Korea Kim Il-Sung, a second vocation apparently shared with his son.

This image is from "The Butterfly and the Cock", not the most imaginative title I know, but it tells of a butterfly that stood up to a bulling Cockerel/Rooster.

If the Rooster reminds you of something… well that's because its supposed to. The battle to win hearts and minds starts early - the in this fable the the butterfly is supposed to be North Korea, and the Rooster the USA.

I guess you're never too young for Propaganda.
We'll be back next week, in the meantime Shortlist have a Fallout 3 trivia quiz here.
Community content is available under
CC-BY-SA
unless otherwise noted.