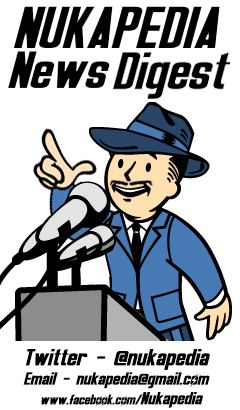 Welcome to the Nukapedia News Digest, brought to you by The Spitoon, where Happy Hour is whenever the [CENSORED] Vault City guards leave.
In your digest this week
From the Administrative Enclave
User Rights Changes
ToCxHawk has decided to step down as Moderator.
Unique weapons, ammo and other loot
Two ongoing discussions re Loot, first is one to create categories for unique arms and armours. You can check that out here.
There's also a debate about including some otherwise non notable loot that appears in fixed locations on pages. You can see and participate in that discussion here.
Reconfirmation Process
Still in the ol' Talkin' shop, we're also discussing the "reconfirmation process" for users with special rights (admins, moderators, etc). Have your say here
From Wikia
Related Videos Feature
Wikia is planning on introducing a "related videos" section to the right hand side of all pages. Although we've now been removed from the fast track to get this feature, we do still have an ongoing discussion discussing if this should be deployed at all, and what content could be included; we also have a picture of the rail in use so you can see for yourself the effect. Take a look on this forum page.
Wrap
Relic of the War that Wasn't
Here on the relic desk, there's only one thing better than a gun, and thats an atomic gun!
On May 25 1953 the US government tested at the Nevada test site what remains the only nuclear device ever fired from a canon; The device packed the equivalent of 15 kilotons of TNT and was shot 7 miles - in theory it could have shot as far as 20.
Atomic Annie, as the canon was affectionally known, was successful enough that at least 20 would be built, costing a cool $800,000 each (in 1950's dollars); it took 15 minutes to prepare for firing, and another 15 mins to prepare for transport. Each gun weighted a massive 47 tons and had to be towed by two engines.
Although the guns did see deployment in Europe an Korea, they were rendered obsolete almost immediately by improved nuclear missile capability and smaller shells that could work in conventional artillery. However their impressive size enured they survived as a prestige weapon for some time to come - 8 of the original 20 remain on display to this day.
The image is of the actual test.
Next Week: To Burlington, Wiltshire, UK....
The Divide
Just a quick plug for what promises to be a new regular feature - The Divide, brought to you by Tocinoman looks to bring you a regular debate on things in the Fallout world.
Your Next News Digest
That about wraps it up for this week, we aim for new news digests every Friday, presuming there is enough news to warrant one. If you have news please either let me know on my talk page or reply here.
Community content is available under
CC-BY-SA
unless otherwise noted.