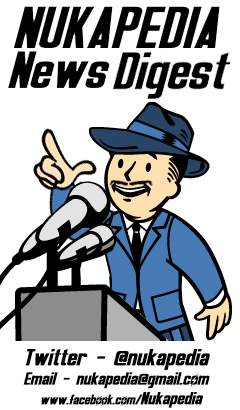 Welcome to the Nukapedia News Digest, brought to you by The Children of the Cathedral: Uniting Man and Mutant since 2155.
In your edition this week:
Going International
As most of you probably know already, English isn't the only language in the world, nor is it the only language Fallout players speak; followers of the Recent Changes list will often see "interwiki" in the edit summary as our Polish and Russian friends (among others) update the links between us.
But what you may not know is that the Chinese and Portuguese wikis are about to get a massive shot in the arm. Our own SigmaDelta and CrimsonFrankie have been approved to "adopt" these wikis (respectively). Congratulations guys, I'm sure you'll do us proud.
Can you help? We're linked to wikis in 19 other languages, you'll find a link for each of those on the bottom of our home page. If you're good with a language thats not there, why not start one? Agent c 22:24, June 15, 2012 (UTC)
News from Wikia
Wikia will soon be upgrading all their wikis to Mediawiki 1.19 (we're currently on 1.16). The date of this change is TBC, but here's some of the improvements you can expect to see:
The default user signature now contains a talk link in addition to the user link.
Built-in method for making tables collapsible. Instead of adding custom JavaScript to your wiki, you can now just use the class "mw-collapsible".
File extensions (e.g. .jpg) will be automatically added to filenames on upload if the user specified a filename without an extension
Images are now autorotated according to their EXIF orientation. This only affects thumbnails; the source remains unrotated
The "This is a minor edit" checkbox is not available when you create a page or new section
Support for metadata in SVG files (title, description)
Inline rendering/thumbnailing for Gimp XCF images
The parser cache is now shared amongst users whose different settings aren't used in the page
A variety of category sort-related fixes, including:
In English, lowercase and uppercase letters now sort the same
Subcategories, ordinary pages, and files now page separately
When several pages are given the same sort key, they sort by their names instead of randomly
Interlanguage links display the page title in their tooltip
Special:Listfiles now supports a username parameter
You can find out more on the Wikia Staff Blog.
Fallout 3 in G4TV's top 100
GvTV is currently running a top 100 list where Fallout 3 is placed at number 75. Given that indisputable classic Deus Ex is at 53, whilst Rock Band 3 is at 52, I'm not entirely sure what the rating system is based on, but there you go. As of time of press the top 20 has yet to be published.
Project Spotlight
New User Network
Due to an influx in new mentees over the past few weeks, I'm putting out a call for potential mentors, particularly if you are based in the Americas, or if you're awake during the US evening. If you can help out, please get in touch. Patroller status or higher is preferred, but is not a strict requirement.
Wrap
Relic of the War that Wasn't
Since World War one, Amateur Radio Buffs have been noting strange radio signals, they'll often start with a bit of music or some spoken word only to be followed by strange sets of numbers, before abruptly sounding off. Usually they broadcast on a regular schedule, but "Special broadcasts" have been noted during important world events.
These "Numbers Stations" seem to be broadcast by governments worldwide. Stations christened with names like "Cherry Ripe" and "Lincolnshire Poacher" have been traced to UK RAF stations in Cyprus; whereas "Atencion" has occasionally had Cuban Radio stations audible in the transmissions background. A station believed to transmit from Albuquerque in New Mexico opens with the eponymous character proclaiming "Varmint, I'm a-gonna b-b-b-bloooow yah t'smithereens!" before relaying its message. Before the country's dissolution, the Yugoslavian Embassy in Washington DC was rumoured to be housing a radio transmitter that sent similar messages for "the other side".
Although TV series Fringe offered a rather strange explanation for these stations, in reality it is presumed that these sets of numbers are messages being sent to agents in the field, possibly conducting espionage although some have suggested some stations are linked to organised crime (primarily smuggling). The messages are assumed to be sent using a one time cipher, the agent in the field uses his/her decode book to find that days cipher, and as long as the same cipher wasn't reused the system was almost impossible to crack.
Governments almost never acknowledge the existence of these stations, however a UK Department of Trade and industry spokesperson is on the record as saying:
"
These numbers stations are what you suppose they are. People shouldn't be mystified by them. They are not for, shall we say, public consumption.
"
Although the heyday for these stations ended with the cold war, they continue transmitting today, with some returning after a few years absence after the fall of the Soviet Union. In 1998 a group of Cubans in America were arrested with equipment used to receive and decode messaged from the "Atención" station found in the apartment of one of the accused. Still, some do make a hobby of tracking and attempting to crack the codes of these stations (in some locales this may or may not be legal).
For those of you who like to put a sceptical eye to these things, Skeptoid.com had a look at these and concluded:
"
The thing I like about numbers stations is that it's one case where the spooky explanation, the one that would appeal most to the conspiracy theorists, actually turns out to be the right one in at least some instances.
"
— Brian Dunning, Skeptoid.com
You can listen to a BBC Radio 4 report on these stations. However, I've included a selection of better known stations from around the world:
Next Week: Its my (nuclear) aeroplane.
Next Edition
Is in seven days hence. News tips as always can be left in the comments, or my talk. Zero, Zero, Zero, Zero. Agent c 22:29, June 15, 2012 (UTC)
Community content is available under
CC-BY-SA
unless otherwise noted.