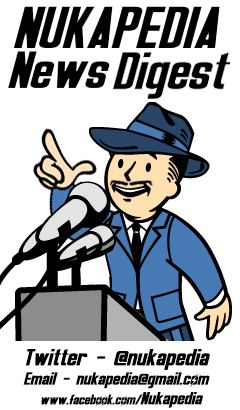 Welcome to the Nukapedia News Digest, brought to you by Ascorti's Ace - Only a Jet Head would miss it.
In your digest this week
From the Administrative Enclave
Vote Results
I (Agent c) have received your unopposed support to take the role of Full Moderator - so much so someone almost voted twice. Thank you again for your faith and trust in me.
The Gunny has received what can only be described as Universal Acclamation in his quest to become an administrator.
TwoBearsHigh-Fiving has also received your continued support to continue in his role as administrator.

New Votes
Dragonborn96 is running for Chatmod. Have your say before May 14
A new life for the Enclave Wiki?
The former home of the "Enclave Wiki" is being re purposed for use as a Strategy Wiki. Here's DragonBorn96 with more.
The Refurbishment of the Enclave wiki allows the wiki to have a dedicated strategy wiki that will allow users and editors to create pages and blogs detailing their own unique ways of playing any of the Fallout games in the series as well as their unique characters as well. We're currently in the process of building it up from the ground up as we have blank slate. If you have any ideas as to what we can include, then feel free to drop on down to the forum linked below.
Can you help? Our Forum page for discussion is here; and the Enclave Wiki itself is here.
Project Spotlight
Fallout 3 Notable Loot Project
We have a new project this week following the changes to our notable loot policy. Here's Sigmadelta with more:
The Fallout 3 and Fallout: New Vegas notable loot project" aims to clean up the "notable loot" sections of pages in order to retain only those items that are genuinely notable by wiki standards. There has been quite a bit of discussion and some independent efforts to sort out these sections, and so this project is really just an organised approach to ultimately improve overall article quality
You can help, Click here for more info.
UPDATE: Due to the notable loot policy still being finalised, the project will be on halt for a little bit. Once the final policy is out, things will resume.
News From Home and Abroad
Bethesda's ongoing developments
Addressing the worry that Elder Scrolls online may detract from what else they're working on, Bethesda Game Studios twittered this:
"
Don't worry, @TESOnline never affected our work on Fallout 3, Skyrim, DLCs, or NextEpicThingy™. We'll keep doing our thing.
"
— @bgs_devs
Here's hoping "EpicNextThingy" has a 4 in its title.
Wasteland
Looking for Work, Now that the cash has been released, InXile is hiring - they're especially interested in folks with experience in the "Unity" engine... Looking at their game list the big games that have used it include Battlestar Galactica online, and Tiger Woods PGA Tour online, but apparently the engine has been used by "thousands" of games, so hopefully will be a solid base to work from.
if you've got skills in Unity, jobs[at]inxile.net wants to hear from you.
Meanwhile, for the rest of us, take a peek at the box art for Wasteland on vgboxart.com; or read GameStar's interview with Brian Fargo here.
Nuka Break
NukaBreak has raised though kickstarter $68,000 to date from its goal of $60,000. Series 2 appears to be on. Congrats guys.
Wrap
Relic of the war that wasn't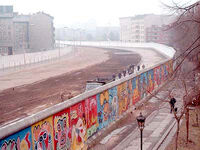 Todays relic stood as one of the most defining landmarks of the gulf between "East" and "West", and in this case I mean that quite litterally.

As every World War 2 FPS has taught us, the end of the war in Europe ended with the surrender of Germany, as is normal after a complete surrender the winning forces, in this case lead by the USA, France, the UK and the Soviet Union, occupied Germany and divided it into temporary zones of control. The majority of the eastern part of the country was occpied by the Soviets, and the west and south shared between the UK, USA and France; a similar division was also put into place in Berlin - nominally in East Germany, the western part of the city was occupied and controlled by the UK, USA and France.

Unfortunately the distrust between East and West that would later become a staple of the cold war became a huge factor in the reconstruction of Berlin, and Germany as a whole and rather than the expected single German state, Germany was divided into two countries, Communist East Germany, and Capitalist West Germany. In West Berlin, although it was administered under similar lines as West Germany, it was surrounded on all sides by a seemingly hostile nation.

In 1961 the East German government started construction of a wall around West Berlin and closed what was a gaping hole in its border. The East German government called this the "Anti-Facist Protection rampart" designed to prevent "aggression" from the west the intended effect seemed more to prevent East Germans defecting into the west - West Berliners were still generally admitted access to East Berlin, as were western toursists for day trips; East Berliners were generally not allowed by the East German government to visit the west, and even when they were it required a lot of work to get approval, and only a limited amount of currency would be permitted to be exchanged.

Although just a wire fence at first, the wall "improved" over time to concrete in 1965 ,and the iconic reinforced Concrete wall with further protections in 1975, this lasted until its eventual removal in 1989. East German guards were permitted to shoot (but not shoot to kill) to prevent people climbing over.

Prior to its construction 3.5 Million "East" Germans had defected into the west (often the better educated, causing a "brain drain" in the east, whereas after its construction until its eventual fall the number of attemps to scale the wall is only in the single digit thousands.

The wall did result in strange anomolies, on the Berlin Subway system stations which linked to stations on the "wrong side" of the wall were closed and became "Ghost stations", leaving these stations preserved, complete with advertising and artworks until the eventual reunification of the city.

Next Week: Oh Canada!
Your Next News Digest
Next Friday. Sorry about the late delivery of this edition, had to help a friend. Agent c 01:33, May 12, 2012 (UTC)
Community content is available under
CC-BY-SA
unless otherwise noted.