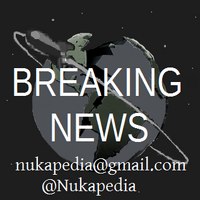 Hello Nukapedians.
Thanks to the wonderful guys at Bethesda and Wikia, we have 9 iOS and 9 Android Fallout lunchbox codes to give away.
We'll be giving away one of each between the 1st and the 9th of October. In order to be in with a chance to win one, all you need to do is give us your details, and make a "good" edit on a Fallout Shelter page between now and the draw date.
You will also need to have a Nukapedia/Wikia account so we know who you are.
Enter your details here if you want to be in with a chance to win.
What's a good edit? It doesn't have to be a huge, change the world edit, even a small typo fix will do - as long as your edit isn't reverted, or doesn't break our editorial guidelines it counts.
Attention Android Users: Apparently Android users can only use one free code, so if you've gotten a lunchbox code elsewhere, this probably wont work.
Well, What are you waiting for? get cracking!