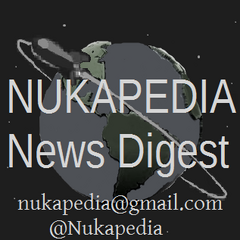 Welcome to the Nukapedia News Digest. Its almost on time.
In your edition this week
Around the wiki
This weeks images and captions selected by Mountain Hail. Hey Hail, don't you have enough to do already?
Dateline: Rockville, MD
T of the Month
Teatime!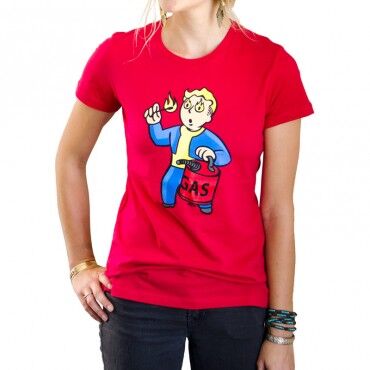 You firebugs out there can get this at The Bethesda Store. $US20 in Womens and Unisex. No point asking about what level up have here in the EU for us, they still got a flat load of nuthin.
Conventions for your CON-sideration
Meet your (game) maker
For those of you planning future Convention visits, Pete Hines, VP of Marketing at Bethesda will be giving the Keynote at PAX Australia, talking about "Storytelling". PAX Australia is on October 31-2 November in Melbourne. Makes no difference where I go… you're the best home town I know! Hello Melbourne! Hello Melbourne! (10 points to anyone who can complete the sequence).

For those of you on the other side of the world Bethesda will also be at Gamescom Germany. Not sure what their presence will be beyond a few booths, but thats in Frankfurt 14-17 August.

And of course Bethesda will be at QuakeCon, since they own it now. Thats in Texas later this month. Nothing Fallout related so far, but its clearly wider than just the ID stable as they are having some Elder Scrolls Online events. I'm wondering if and when Fallout 4 is announced, if Quakecon might be the place they'd do it.
News from the wastes
Lets get wasted
Wasteland 2 progress is still ticking along, I thought this bit however on how the game has expanded from its original plan was particularly of note:
Wasteland 2 is a hell of a project. One that is larger and more nuanced than we had imagined even when completed our Kickstarter campaign and knew what our budget was. We've had the good fortune of having a nicely selling back catalog, which allowed us to put a good chunk of our own money into making this the best experience possible. That along with some help from Early Access on Steam provided additional revenue along with a great influx of feedback. 
We made this promise a while back and it still holds true. Every penny coming in from sales is still going back into making Wasteland 2. By this stage, it means we have doubled Wasteland 2's initial budget. 
There was discussion when we put the game up on Early Access whether it was a good idea or not. I can promise that the game we are close to releasing would not have been the same without it. While Wasteland 2 would have been released months ago without Early Access, it would not have the polish, detail, and scope that we are bringing to you in very near future. The past few years have been one large learning and refining process for all of us, and in hindsight, we can measurably say this had a huge positive impact on the game. Nothing beats the feedback from tons of you playing the game and the resources and time to act on that feedback. 
At this stage in production we are thinking about practical tasks such as getting a gold master version so we can start printing discs. We're currently aiming to have that done in late July, but that doesn't mean we wrap up the project. Some people will stay on (as others move fully to Torment) and continue working on the game until its release to provide a day one patch, and we fully plan on significant post-release support. 
The most obvious of that will be the mod-kit and of course post-release patches. We do not have any expansions currently planned but that doesn't mean there won't be any in the future. We will keep an eye on feedback just like we have during the beta period and be open to taking another look at features that are highly requested. Basically, while we are nearing the release date and thus nearing "the end" in that sense, we are looking forward to working on this game for quite some time yet! 
Fanzone: Fallout 1.5: Ressurection
Actual Fallout News
I've mentioned Ressurection before, a Fallout 2 mod based in New Mexico between the original two games, being developed by a Czech team. Well soon us English speakers will be able to Czech out their good work without having to use google translate
The English translation of Resurrection is growing at a decent pace. As a rough estimate of how far we are: out of the total 588 text files, 194 have been translated, which is approximately a third. We thank the translators, who haven't stopped translating and continuously committing their free time, even when they don't have very much of it due to various life events, both happy and sad. The happy ones include a wedding and a birth of a child. Congratulations to both!
If you can help out, please do get in touch.
Fallout 3 Speedrun
Community content is available under
CC-BY-SA
unless otherwise noted.