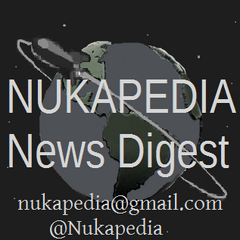 Welcome to the Nukapedia News Digest. Our Maintenance is complete and the Megaserver is available again with the latest patch.
In your Edition this week
Around the Wiki
Last-Last Weeks Caption

Vote now in the box below for your captions of Chris Avellone, and we'll Tumblr the winner next week
Select your favourite Chris Avellone Caption
Bethesda back to Court
Law And Order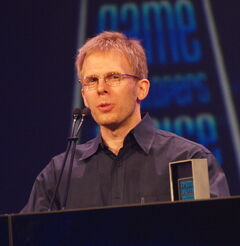 From the company that brought you Bethesda v Interplay, and Bethesda sues company over the world Scrolls comes…. Bethesda vs Doom Guy.

As you may remember, Bethesda purchased ID Software some time ago, which was then headed by long term but now former CEO John Carmack, famous for Doom, Quake, and the original Wolfenstien. Not so long ago he left ID to work on the Occulus full time. Occulus just in the past month got gobbled up by Facebook.

And its in this tangled employment situation this case comes from. Zenimax say that as Carmack worked on the Occulus whilst on their dime, they get a bite of the patents that Occulus has taken out. For his, and Occulus' part, Carmack as called the claims groundless.
Wolfenstien
Brian Fargo talks about Fallout and Wasteland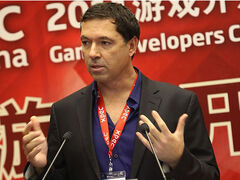 Some interesting tidbits this week from Polygon as they talked to Brian Fargo and Feargus Uquart about their time at Interplay, and later InXile.

Here are some rather interesting revelations.
On how Bethesda gained ownership of the Fallout IP
He learned that many of Interplay's creditors were not being paid, some of whom were people he had done business with. He pulled them together and filed a winding-up order against Interplay.
In order to pay its bills, and get Fargo off its back, Titus was forced to sell prime assets. One of them was a property called Fallout, which was picked up by developer Bethesda. "The whole reason why Bethesda has the rights to Fallout is because of me," he recalls. "Bethesda had already licensed Fallout from Interplay, but it was for a license deal, a percentage. [Interplay] sold Fallout to Bethesda for $3.8 million. Everybody got paid what they were owed, including some of my old employees.
Fallout 2 and dealing with Executives

"[Fargo] was very in tune with the games that we were making," Urquhart says. "Particularly I remember a project review meeting on Fallout 2. We get into the meeting and I'm presenting." The presentation was not playing well to the gathered marketing execs. They made some suggestions about changing the game's art style. "We'd have to redo all the art," Urquhart says. "I wasn't as good at dealing with executives. I didn't want to just say, 'That's stupid.' Brian, he's like, 'No, it doesn't make any sense to change the art. People love the art in Fallout.' That ended it. I don't know a lot of other CEOs that would have been as understanding of the situation and the product and able to head off something like that. It could have really hurt us."

Fargo on the Developer-Pubisher relationship
The worst, he recalls, was being forced to release a game he did not consider to be up to scratch. "What do I do when I'm told to just wrap it up and we're not going to have any time for iteration?" he asks. "Of course my scores are going to suffer. But I don't have control over that. Developers take the rap for having bugs in their products. It's not their QA department. The publisher runs QA. Yet the developer is taking a hit for shipping buggy products. Forever."
….
"I know of some publishers that will purposely try to run developers into the ground so they can buy them on the cheap," he says. "That's also a strategy. Think about that."
New Vegas Geographic Update
Please update your PIPBoys accordingly
Community content is available under
CC-BY-SA
unless otherwise noted.