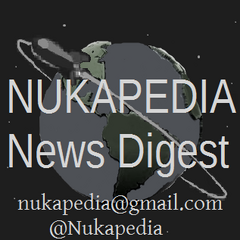 Welcome to the Nukapedia news Digest. On the 4th day of Christmas the wiki gave to me, The Wiki's new news…
In your edition this week
Around the wiki
Want to be featured? Add an image for an article for your chance.
Caption Contest
Wondering who won the peoples vote each week? Follow us on Twitter (@Nukapedia) as we'll be tweeting the winner and the image.
Poll:Last_Weeks_Caption_winner%3F
The Future of Fallout 1, 2 and Tactics
Get yours now, or wait and see?

Those of you who either remember our Bethesda v Interplay coverage, or have been watching the Gog.com twitter account may recall that Interplay's license to sell Fallout 1, 2 and Tactics ends at midnight on 31 December.

We've asked Pete Hines, VP of Marketing at Bethesda what will happen after this date, and haven't received a positive response (just a "we're working on it")

However, there are some things to bear in mind
The older Elder Scrolls games are currently available for for download Arena here and Daggerfall here
Bethesda don't currently sell any titles through gog.com
Bethesda did release an anthology edition of The Elder Scrolls series this year, including all games to date.
If you don't want to risk missing out, Fallout 1, 2 and Tactics are currently reduced on steam to £1.74 (Please check steam for your local currency).
This is definitely the last Interplay story we'll be running, unless by some random chance Project V13 shows up again. Given their website still encourages you to visit to have your say on their "new lineup of games for 2012", we arent expecting anything.
Dateline: Rockville MD
Get yours now, or wait and see?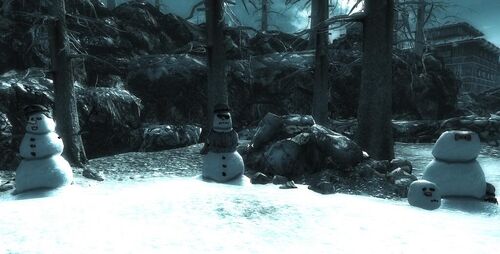 The Guys at Bethesda tweeted this pic with the following note:
We hear using irradiated water can turn a snowman into a snowghoul. Have a safe and happy holiday!
At the Beth store apparently "Everything is on sale" (but somehow some excisions still apply - guess everything means something else in Rockopolis) on Store.bethsoft.com with most items marked down 20%.
Sales
Buy Buy love
*On Steam, Fallout: New Vegas is 50% off, the ultimate edition 40% off
On Green Man Gaming Fallout 3 GOTY is 67% off, and 75% off for the vanilla version.
Lanius
He's the man, the man with the big ass sword....
Wrap
Obituaries
This week we're sad to note the passing of Mikhail Kalashnikov, Aged 94. If his name seems familiar, its because it is.

Kalashnikov is of course famous for his namesake, the AK-47, Designed as a cheap yet reliable weapon it has arguably exceeded anyones expectations, becoming perhaps the iconic weapon of the 20th century. Kalashnikov was proud of his designed, although disappointed by its use by criminals and child soldiers.

Whilst the design was (surprisingly) not financially lucrative for Kalashnikov (or perhaps not when you remember that the USSR was a communist state), we was recognised with awards such as the Order of Lenin and the Hero of Socialist Labour.

The BBC has more.
Community content is available under
CC-BY-SA
unless otherwise noted.