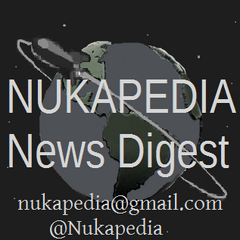 Welcome to the Nukapedia News Digest.
In your edition this week
Picture gallery
This week's pictures have been selected by Gothic Archmage Neko. How does a cat get so many jobs anyway?
Around the wiki
You can vote on our new attribution and plagarism policies here.
We're trying to look at condensisng a number of very similar article here.
Paladin wants to talk about power armour pages
'''Lastly, in response to some out of control forums I've posted this. Please read it and take note of it.'''
Has Bethesda suspended work on Elder Scrolls VI?
Some clickbait sites of questionable repute have claimed that The Elder Scrolls VI has been "Indefinately delayed" to focus on Fallout 4.
Sites like Inquisitir (warning, advertisement overload, dodgy video ads that do no stop when told to, and other crimes that make my comp go into overload when clicked on) are running stories with copy like this
"
Rumors had pegged The Elder Scrolls VI for an early 2016 release, according to MNR Daily, but a recent interview with Bethesda Softworks Vice President of Design Pete Hines shot that down pretty firmly. Hines, speaking at Gamescom 2015, indicated that the studio would be turning all of their efforts toward completing Fallout 4 and recently took the time to expand on that; specifically, that The Elder Scrolls VI is still "a very long time away."
"
Personally, I think this is a case of churning out a story out of a mis interpreted quote. If you'll remember after Fallout 3 was released they made a big song and dance about everyone stopping work on F3, and joining the then token number of people who were working on what became Skyrim.
Prize Draw
The good folks at Bethesda are giving away stuff every week. All you gotta do is drop em your email address.
Community content is available under
CC-BY-SA
unless otherwise noted.