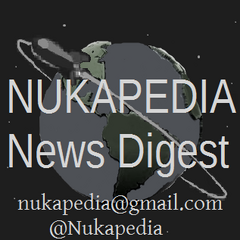 Welcome to the Nukapedia News Digest. Now available in Smellovision - just put an old sock under your nose to get the full effect.
"
I hope tonight's big Sony announcement is that VR is a dumb fad and we should all stick to controllers like normal people
"
— Jason Schrier, Kotaku
Around the wiki
Last Weeks Caption

Vote now in the box below, and we'll Tumblr the winner next week
Bethesda News
Obsidian News
A Paradox

Some big news for eternity this week. Obsidian are partnering with Paradox Entertainment to help get Eternity out there. The partnership doesn't effect the game, its still all Obsidian's, under their control, and they still fully own the IP - it just means they don't have to bother with all of the messy publisher crap. They also still expect the game to be released this year. Woot!
Tanks for the memories
We mentioned some time ago that Obsidian were recruiting staff to work on some sort of "MMO". Well now we know what it is… From their official website:
''We're thrilled to announce Armored Warfare, a new free-to-play massively multiplayer online tactical military video game that puts you in control of some of the most incredible, modern destructive machines to grace a battlefield. Drive modern tanks, armored vehicles and more in this strategic warfare shooter, and blow your enemies to smithereens.''
You won't just be piloting these awesome vehicles, however, but also be responsible for their maintenance and evolution. Upgrade your tanks with all-new weapons, components and more, and make sure you have the right ammo for each battle.
Armored Warfare lets you explore mechanized warfare in a way never brought to your PC before. You'll get regular content updates, including new vehicles and game modes, all for the best price possible! 100% free! So don't hesitate, go sign up for the Armored Warfare beta now!
Armored Warfare will launch into closed beta in 2014 for PC. To learn more about Armored Warfare and to sign up to receive more information and a chance to experience the game in closed beta, visit www.ArmoredWarfare.com,
Oh, and apparently its going to be free.
Fanzone
Wrap
Relic of the War that Wasn't - Home Sweet Home
This weeks relic is one that a hunter is about to try to find…


The 1964/65 Worlds fair in Flushing Meadows is notable not just because of the funny name, or because it was a financial disaster, or its role in the Men In Black movies… But because the future was underground homes:

"

The realities of living in the Cold War made us ask "How can we survive a nuclear blast?" The Underground Home showed us it was possible to live comfortably beneath the ground before - and after - the bomb. Join us at this least seen of all World's Fair pavilions in a wonderful Feature presented by Bill Cotter.

"

— 1965 Guidebook

Hungry? a snack bar in the attraction promised "Crab Burgers". The forerunner of Mirelurks?

You can find out more about 64/65 Words fair attractions and the home here.
Community content is available under
CC-BY-SA
unless otherwise noted.