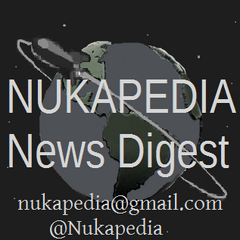 Welcome to the Nukapedia News Digest.
In your edition this week
Picture gallery
This week's pictures have been selected by Peace and Hugs. Some guy called McArtney insisted I needed to give Peace a Chance.... so here it is.
Wiki News
New Apparel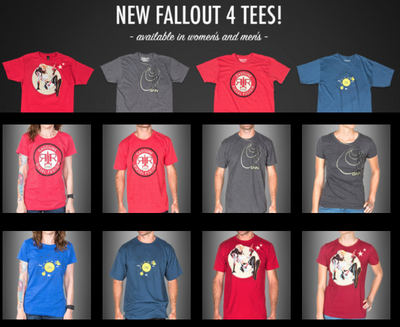 All of thats in the Bethstore.
Fallout 4
Congrats to the Beth Team who've already stared filling out the awards cabinet for Fallout 4, is won the IGN's peoples choice award at Gamescom 2015 with 36% of the vote. In some countries, 36% of the vote means you become the government, so welcome to our Bethestonian overlords.
So what have we learned? There's 400 hours worth of gameplay to explore, there's no level cap, and there's no ending. Bethesda seem to be doing everything they can to make sure there's no repeat of Fallout 4' s mistakes.
MarkvA took the lead wikia's coverage of Fallout at Gamescom, and here's what he had to say:
"
We were then treated to a first look at the town of Lexington. Once inhabited by people trying to survive in the harsh wasteland of Boston, it has since been overrun by ghouls and raiders. Everything in Lexington shows that it was once a lively industrial city, with the Corvega car factory at its heart. Bethesda has truly mastered the art of storytelling through environments and world building, which becomes apparent by just strolling through the somewhat colorful Lexington.
"
Want to learn more? you can see his blog here.
Fallout Shelter
Just a reminder, Fallout Shelter hits small android screens this week - Augst 13, with an update for iPhone users to include new features including new attacks and Mr Handie. Let us know when you get it what you think.
Community content is available under
CC-BY-SA
unless otherwise noted.