And now.... HOUSE-TV - showing the best from the New California Broadcast System, presents live from the Bison Steve in Primm.... The third heat in the Mr Wasteland Contest... Mr Nevada; and now here's your hosts, Agent C and Joanne Lynette
You decide
Macho Macho Man....
TALK - Agent C and our special guest host discuss the contestants....

Welcome back to Mr Wasteland for Nevada, and I'm joined again with Joanne Lynette from Vault City TV

---


If it ever gets back on the air after that brute destroyed it.

---


Yet its strange the Vault City Guard was unable to find any evidence...

---


I never should have made that outsider Captain of the Guard.

---


Well, its time to start, and first up our carry over champ, Dean Domino

---


Urgh, who let that zombie on the stage? Where's Dean?

---


Um, that's Dean

---


My Goodness, I used to have such a crush on him, now nomore. Someone get that trash off the stage.

---


Yes Ma'am, next up is Grecks

---


Urgh, another Zombie. This town really is full of degenerates.

---


Perhaps this will be more to your taste, from the bad side of town, its Arcade

---


Mister Boring? Well, at least its human... I think

---


From the Kings, is Sergio

---


I can't believe they sent a boy to do a man's job - but he's not any worse than the other rejects so far.

---


From the North, its Follows-Chalk

---


Of course, where would we be without another stinky tribal. I'd ask if they're saving the best for last, but its not going to take much to stand out in this bunch

---


Its Motor Runner

---


Well, this is a suprise, some talent at last.

---


You like Motor Runner?

---


Oh yeah, he really gets my motor running

---

And on that note, we'll say goodby from the Bison Steve. Join me next week for Miss Wasteland's next heat....
Last weeks winner
Miss Nevada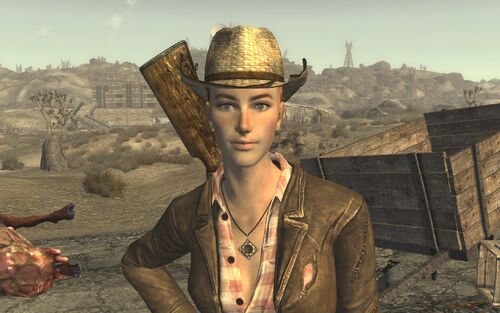 Our Winner: Cass
Community content is available under
CC-BY-SA
unless otherwise noted.