Hi Folks, in a news flash... Some buzz has been generated around following has been spotted at the US Patent and Trademark Office...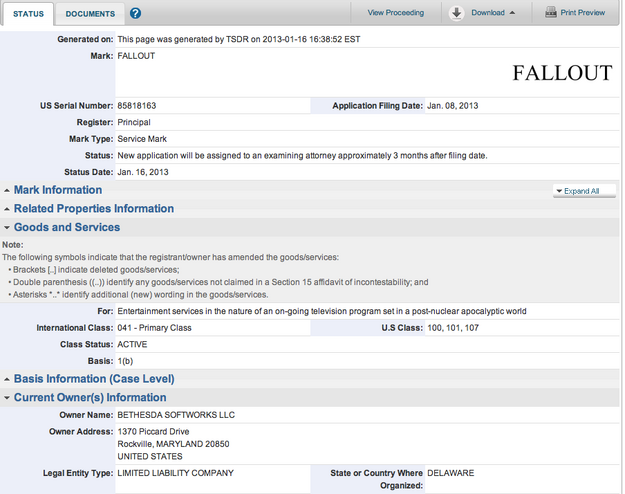 However, don't get excited becuase it says "TV". This doesn't mean a TV series is definitely in the making, it could just mean that Bethesda/Zenimax feel the need to protect the brand in this area... In fact its not even the first time Bethesda has registered the Fallout mark for a TV series

(For those who can't make out the text size. Filed February 5, 2009).
The earlier filing is here. Further investigation on the USPTO site shows that this previous registration has been extended 5 times... (There's also an earlier expired registration for Laser disc, video tapes and Audio cassettes...)
Needless to say, not even a hint of a TV series being in development has appeared in the past 4 years (since original registration), beyond the trademark registration itself.
Edit
Looking further into this, the USPTO's website says that when a trademark is issued it either has to be used within 6 months , or a renewal requested if its never been used.
If a renewal is requested, the USPTO will agree to a maximum of 5.
Basically, looking at the evidence, it appears this just the old mark running out, and Bethesda moving to keep it.

In any case, one of our popular Chat Nukapedian For NCR wants to know if you think its a good idea... Take part in the poll here. Agent c (talk) 21:57, January 16, 2013 (UTC)
Community content is available under
CC-BY-SA
unless otherwise noted.