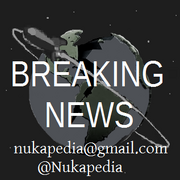 Welcome to our Liveblog covering the Fallout announcement today. We'll be updating this blog as more news comes to light.

Do you have an Infrequently asked question for us?
Be sure to check out the Fallout 4 Portal
Bethesda Store - 21:19 BST
Kicking off again. One of our commenters has noticed that you can pre-order Fallout 4 from the Bethesda store for $US60. In return, you get a 20% off voucher for the Bethesda store. Seems like a good deal to me.
You can also Pre-order Fallout 4 and Vault 111 shirts on the Beth store. Agent c (talk)
Landsdowne Street / Diamond City? 15:37BST
Vault 17 recons this is just near Fenway Agent c (talk)
Fenway Park? 5:34 BST
Vault17 recons this is Fenway Park, is this the ultimate fate of the "Green Monster"? Agent c (talk)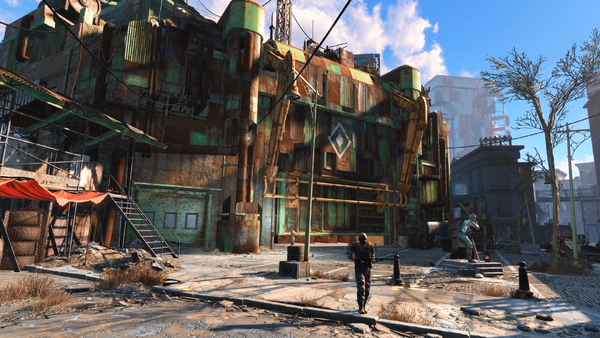 Kotaku Leak Correct? - 15:30 BST
Kotaku are pointing out that not only does the video seem to confirm a voiced antagonist as their leak said it would, but the protagonist looks just like what they said it would. Does this confirm the PC has been in Cryo-Stasis? Read for yourself and decide. Agent c (talk)
Ron Perlman Tweets - 15:25 BST
Having trouble viewing?
The official site is currently overloaded with traffic, we recommend you watch the youtube video below.
Press release- 15:07 BST
We just got the press release
June 3, 2015 (Rockville, MD) – Bethesda Softworks®, a ZeniMax® Media company, today confirmed the upcoming global release of Fallout® 4, the next generation of open-world gaming. The world premiere of the game will take place during Bethesda's E3 Showcase being held at the Dolby Theatre in Hollywood, California on June 14th beginning at 7pm PST, and streamed live around the world via Twitch and YouTube.
Fallout 4 is being developed for Xbox One, PlayStation® 4 computer entertainment system and PC by award-winning Bethesda Game Studios® under the direction of Todd Howard. This eagerly-awaited game is the follow up to the 2008 'Game of the Year', Fallout® 3, and the first title from the world-renowned studio since the release of their global phenomenon and 2011 'Game of the Year', The Elder Scrolls V: Skyrim®.
"We know what this game means to everyone," said Game Director, Todd Howard, "The time and technology have allowed us to be more ambitious than ever. We've never been more excited about a game, and we can't wait to share it."
The game's official trailer, created in-game at Bethesda Game Studios, can be viewed at: www.fallout4.com.
Fallout 4 has not yet been rated by the ESRB.
Watchers may notice the PC at the end of the clip talks to the dog, suggesting some of the Kotaku leak may be trueAgent c (talk)
Its all over
Private video - Fallout 4 probably in Boston
Embedding the private video releases a still!
The comments have shown us that the still includes "Scollay SQ" as in Scollay Square located in Boston. Thank you FlyTaggart90!
14:56 CET / 13:56 BST / 8:56 US EST - 1h 6 mins
Peace has pointed out that the images are actually hosted on the Bethsoft.com server Agent c (talk)
14:56 CET / 13:56 BST / 8:56 US EST - 1h 6 mins
Fallout4.com now redirecting to "Site not found" at dreamhosts - http://content.bethsoft.com/bsw_cms_asset/46892_8_1.jpg its real? Agent c (talk)
Gallery
14:54 CET / 13:54 BST / 8:54 US EST - 1h 6 mins
In response to us tweeting at him for confirmation, Pete has tweeted back the countdown. Agent c (talk)
14:46 CET / 13:46 BST / 8:46 US EST - Hoax?
Begining to suspect its a hoax. The preorder links for the UK list game and amazon. These in turn link to Game in Span, and amazon.com (not .co.uk) Agent c (talk)
14:46 CET / 13:46 BST / 8:46 US EST - SITE LIVE?
There is a video on the fallout4.com site but its listed as private Agent c (talk)
14:40 CET / 13:40 BST / 8:40 US EST - SITE LIVE?
I can confirm that the WHOIS information correctly lists Zenimax as the owner, and the registrant is CSC Corporate domains, consistent with Bethsoft.com; this appears to be real. HOWEVER the admin email is domain.manager.dc@DLApiper.com - a law firm. This email address is inconsistent with Bethsoft.com which has Dnsadmin04@zenimax.com Agent c (talk)
14:36 CET / 13:36 BST / 8:36 US EST - T-Minus 1 hours 24 mins
http://fallout4.com/ - Fallout 4 seems to have been confirmed - Greets Peace'n Hugs (talk) (blog)
14:25 CET / 13:25 BST / 8:25 US EST - T-Minus 1 hours 35 mins
We're still standing by as excitement continues to build.... What are you hoping to see? Are the mentions of the Instutute, simulation or 1898 in the official site code worth anything, or are they just way out of context? Is this for Fallout 4, or is it just a Deathclaw Plushie? What do you think? Agent c (talk)
13:57 CET / 12:57 BST / 7:57 US EST - T-Minus 2 hours 3 mins- Welcome
Its just 2 hours to the big reveal now. We'll update this blog throughout the day with news as it breaks. Please stay tuned. Agent c (talk)
Community content is available under
CC-BY-SA
unless otherwise noted.