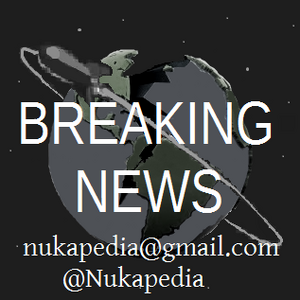 Welcome to another Nukapedia News Blast - Following rapidly developing Fallout 4 events in this blog, we continue our coverage of www.thesurvivor2299.com; a possible Fallout 4 teaser site.
WARNING - some users are reporting that there is a malware alert coming up when visiting the site
About this blog
We still do not know what thesurvivor2299.com or its apparently linked twitter and tumblr accounts are. We do not know for certain that they are Bethesda or Fallout related.
In the last blog we also covered the new trademarks for the Void engine, and for Fallout 4 in Europe. We'll have coverage of this, and the other Fallout and Fallout related news in the Nukapedia News Digest.
We are not going to make a call on the veracity of this until we have a smoking gun. In the first part We'll outline what evidence we have and why that may be suspicious.
The second part we'll be operating as a "living blog" adding in updates as they happen. Please keep telling us any news you find in the comments, and we'll investigate and add that information as we can.
Do not add any information from the blog onto the wiki until confirmed.
Summary of facts 1pm GMT 14:23 17 November 2013
On 14 November a website called www.thesurvivor2299.com appeared on the web.
Following this a few social media accounts appeared - a Tumblr, and two twitter accounts.
The Website
The Website was registered through GoDaddy to Zenimax Media, IT Department. The registration/WHOIS contained the correct corporate information for Zenimax Media. Zenimax Media is the owner of Bethesda Softworks
However, Zenimax Websites are typically registered through CSC Corporate. This doesn't make it impossible, but unreliable, there is no verification of the registration entere. see the whois information for fallout4garyindiana.com for just how much nonsense can be put in.
This is not without precedent however - Blizzard did use GoDaddy for one of their products
The Website was originally hosted on a Polish Web Sever
This makes little to no sense. Zenimax have no current offices or operations listed in Poland.
The site was then moved to an IP registered to Baltimore, Maryland, operated by ReliableHosting
This allowed the first octet of the sites IP address of the site to match the IP address range owned by Zenimax. However it is still not within the IP Address range owned by Zenimax
Zenimax's IP address show as being owned by Zenimax, not RelaibleHosting.
Traceroutes suggest that this is held in a different datacente to Zenimax's other sites
The site does not use the normal Zenimax name servers.
The code contains references to Fallout and Bethesda's YouTube channel
The code contains numerous errors and inconsistencies that do not suggest a professional job.
The code for the timer contains a link to a Polish Web Developer's portfolio.
The site contained some morse code, that has been suggested to mean 11-12-13. The countdown timer seems to point to this date as well
The site uses the same font as previous Fallout games.
There is also a youtube channel but with no videos as of yet.
A Vault Tec logo was added after the timer was put up.
The Tumblr previously contained images detailing the number "4" and "74A".
Vault 74 was a dummy vault left in the game files of Fallout New Vegas, apparently made for Fallout 3.
These images also contained the line "If a flame is to grow, there must be a glow". FEV, known to the Children of the Cathedral as the "holy flame" was developed at the glow.
An Audio file (since removed) was added containing the text of the Vault_74a_overseer's_log from this vault was later uploaded.
A file called "Ella Deux" was unloaded. This can be read as "She has two" in French, A romantic french poem was included in this file, along with "To each his own" by the Inkspots
Some further distorted french poems were added under "Ella Saveur" (Ella Savior), including Mes vers fuiraient, doux et frêles by Victor Hugo. This seems to be a distorted version of this youtube file
The email address of this user apparently bounces. This has lead some to suggest that the files use is unauthorised.
Others have pointed out the recording could predate the rest of the youtube content and thus originate elsewhere, or that the owner could have been contacted in a different way.
Another poem, Que Serais-Je sans toi (what would I do without you) by Jean Ferrat was uploaded
Other posts have suggested location in the general massechuttess area, and some down south.
A twitter account for the machine was noticed around this point
Following these, Broccoli, began tweeting at the account similar to the hacking style in Fallout 3
This "Unlocked" questions on the Tumblr account, and the account produced some of Maxson's diary, before "Ella Deux" seemed to relock the system.
There have been numerous references to "Cavaldez". The most recent Audio, describes as a Primary target: "Johnny L Cavaldez", and a secondary target as "Colin L" or "Colonel" Cavaldez, with rewards for Elimination.
A Live Leak video, alleging to be from the survivor2299 has also been spotted [1]
Tumblr updates have typically been done in a timeframe that suggests a US, not Eastern European base
Please see our last blog for more details and credits.
From the official side
There have been no tweets from Bethesda on the subject. There have been tweets on other subjects such as Pete Hines buying a puppy, or on Skyrim, or TES Online.
Erik Dellums has favourited a few tweets and retweeted them, but nothing that suggests any knowledge of what is going on.
Anything only Bethesda could do in this campaign, has not been done. The things that have been done could have been done by anyone dedicated enough to do so.
Hypotheses
It's real
It's the work of a Polish web developer to drum up business
It's an elaborate practical joke
It is a combination of the above - some parts real or by polish web developer, some parts a joke to take advantage of gullible fallout fans.
19 Nov - The twitter and Tumblr are now confirmed to be a fake. The mystery of the main site... Continues.
Ongoing updates from 14:23 GMT 17 Nov 2013
Tumblr - 21:06 ; Twitter 21:16
18 November

19 Nov
Tumblr - 15:39 - Calvaldez Speaks
19 Nov
Tumblr - 19:00
As many of you have noted, the Tumblr and twitter maker has confessed that his work is a fake, and wont be continuing due to a lack of time. HOWEVER he has denied all knowledge of what is going on on thesurvivor2299.com site - an unrelated prank, or still a real hope?

Another apparently fake site has appeared in vaultofthefuture.com - this ones registered to panama. We don't intend on going into more detail on it for now. Its asking for personal info, obviously don't give it any - I'm not even going to link it.

We'll be ending the living blog coverage for now. The mystery of the main website continues, and we'll have another update when we know more.
21/22 November
We did plan to cut coverage but the main websites Morse code has changed to a code, decoded to:
MY DEAR SISTER. I'M HEADING TO THE INSTITUTE. GOD KNOWS WHAT HAPPENED TO THIS PLACE NOW. THIS OLD BASTARD WILL HELP US. HE MUST HELP US. —0321—
(Any admin please feel free to add to this. Please sign as per a talk page)
Community content is available under
CC-BY-SA
unless otherwise noted.