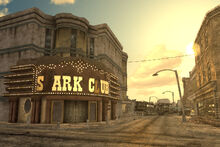 I am a long-time fan of the Fallout franchise. I started playing years ago, and it was Fallout 2. I didn't even get halfway through when I decided I had to own them all. I've beaten all of the Fallout games except Tactics and the Playstation one, I think it's Brotherhood of Steel. I'm currently in the process of playing 3 and New Vegas over and over again, because, believe it or not, I'm a huge friggin nerd. I also love the Elder Scrolls franchise, but i cant play the first 2 because my computer is far too advanced for them. It sucks. I've beaten the rest, though. I'm here on Nukapedia to make new friends and discuss my all-time favorite games. I know it's not much to go on, but anything else you must know, you can just ask.
And remember: War, War Never Changes... But Men Do, Through The Roads They Walk
Community content is available under
CC-BY-SA
unless otherwise noted.