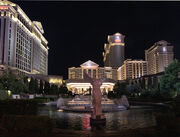 Hi, my name is Justin. I am 27 years old and I am a native to Las Vegas, NV. I am new to this Wikia, even though I used to visit (never edit/troll) Encyclopediadramatica, (I swear I will never troll this wikia, I'm more mature than that). I am accustomed to editing pre existing articles to state factual evidence, and correct mistakes; such as: grammar, punctuation, capitalization, misspelling. When Fallout 3 first came out, it was my first fore ray into the world of Fallout, and I fell completely in love with the game (must have rented it about 20 times before finally buying it brand new from GameStop.)
When Fallout: New Vegas came out, I purchased it on the PS3 because my Xbox 360 was at their repair center, got the Red Light of Death, FML. Just recently, I traded it in and bought a brand new copy of New Vegas for my Xbox.
On the PlayStation message boards, Xbox360Achievements.org, and GameFAQs, I created a forum post entitled "Names of real locations in New Vegas," which basically was a conversion i.e. REPCONN is known in the real world as PEPCONN, it exploded back in the 70's and 12 people died. So, if I am looking through a article on this wiki about something in New Vegas that has a real place in Las Vegas, I will change its comparison to match it's counterpart; so that the article becomes for factual. Plus, I'm OCD about that kind of thing. If, you would like to help me, it would be awesome!!
I hope to meet new friends on here, and not have a negative impact on this wikia because I used to visit encyclopediadramatica.
If anyone has any questions about the real life locations in New Vegas or in Las Vegas, please shoot me a message so I can answer your question. Sorry for the lack of any type of design or HTML, I'm really a nub when it comes to it.
Fallout: New Vegas
Fallout 3
Ultra-Lux
Community content is available under
CC-BY-SA
unless otherwise noted.