Introduction
Hello. I am Mario479 and I am always trying to help The Vault when I have the chance to. I enjoy editing The Vault while I am playing one of the Fallout games to guarrantee that the information I am adding to The Vault is more precise and correct. I also have a profile with the same name in Gamespot, Fallout Answers, Fanpop and the Fallout Official Website. Fallout: New Vegas was the first game from the Fallout series I ever played and I enjoyed it a lot! I am currently playing Fallout 3 as I have just finished doing "everything" (explore all locations, complete all side-quests, etc.) in New Vegas and I hope that Fallout 3 will be as fun and cool as New Vegas!
Cool Fallout Discoveries
1) Check out what lies "inside" the Lucky 38 building. This may the terminal which triggers the songs which are played inside The Tops casino. I don't know how I managed to do this and this is NOT a hack. This was also made in Xbox 360 with the 1.2 patch installed.
(sorry, I forgot to add the "8" to the "Lucky 38" while making the website)
Nothing for now.
My Main Goals In This Wiki (Quests)
Make as many useful and good edits as possible!

Progress - I will always be working on this goal (quest), which means that I will never be able to complete it!

Recieve a "gift" (e.g. you recieved dozen of jet) from one one The Vault's admintrators so that I can see that I am in the correct track in terms of editing.
After doing around 1500 - 2000 edits, I will be able to see that I am responsible and trusted enough by The Vault team to make my first request to be a Vault adminstrator!

Progress - None of the steps are completed yet.

Participate in 5 projects from The Vault.

Progress - Participated on five projects: Bug Verification Project / Fallout 3 creatures project / Fallout: New Vegas creatures project / Fallout 3 locations project / Fallout New Vegas locations project
My Edits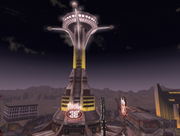 There should have been a list of this user's edit counts here, but the edit counts feature is no longer available.
My "Badges"
| | |
| --- | --- |
| | This user is Brazilian. |
| | |
| --- | --- |
| | This user is slightly knowledgeable about Fallout 3. |
My Gifts
I currently no gifts.
My Personal Gallery
In this section, you will find my personal favourite pictures from the different Fallout Wiki pages:
References