Hi, I'm Ian. Before you get to know me, you must first learn that I'm a HUGE power armor junkie. It's my favorite part of the Fallout series and, to me, it's the thing that set the series apart from so many other games.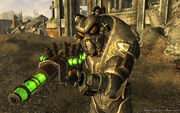 Yeah, so now that that's out of the way, let's get to business. I'm a rising High School Sophomore who lives on the East Coast of the United States. The system I own is a PS3, which despite having a horrible company owning it, is a wonderful system. I own only two Fallout games, Fallout 3 and New Vegas. I personally think that New Vegas is better from a story standpoint, but Fallout 3 is better as far a programming goes. So, yeah, those are the basics. Some other things you should know about me...
Favorite Guns: 1. CZ57 Avenger; 2. Brush gun; 3. Light machine gun; 4. Anti-materiel rifle; 5. Dinner Bell
Favorite Energy Weapons: 1. Plasma caster; 2. Q-35 matter modulator; 3. Tesla-Beaton prototype; 4. Gatling laser; 5. Pew Pew
Community content is available under
CC-BY-SA
unless otherwise noted.