| | |
| --- | --- |
| | This user plays on a PC. |





Hello there! Fallout fan with nearly 20 years of experience)
Today nearly 200 hours at F4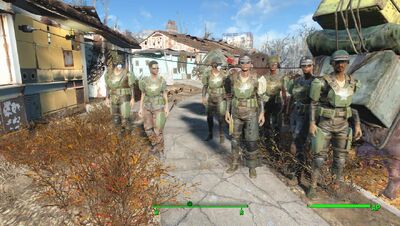 Really I started F1 and F2 (can't remember the actual year but played really in 97-98) and it was one of greatest game I played. I was wrong a little to tell that probably will be impossible today to try it out because of poor graphic - what you liked in 97 you will not like after 23 years ago, it is completely other era for everything. But maybe if you will find solution for hi-res graphic it could be still a great game.
I can't remember, probably I never completed F1. I was in Mutant base but maybe I just found it near the begin of the game. I completed F2 several times with different quest solutions and was really fan of that game. It was impressive and mainly because of stories, quests, possibilities and all the plot. For example Arcanum had nearly same interface but I doubt I just completed half of it even with the tryings of several times.
You remember this picture? And I am.
Now I have F4 and it is quite ok to play with my notebook with not so top graphic settings. I hope that one time I will change it and can feel the really high settings to check everything. I like Fallout because of the main story and idea - it is the same in all the series. There are a lot of things to dislike from NPC and factions to weapons, system and balance. Anyway it is still quite addictive and maybe it is the most important thing for the monumental game.
In my life I'm technical marketeer and engineer for dealing of sheetmetal equipment and tooling. If you are looking for high skilled consulting regarding sheetmetal process or press brake tools, here I am.