I have been a long time visitor of the site, making errant grammatical changes on some articles and providing limited commentary on the news; however, I decided recently to create an account and give identity to my voice. I love history, classical languages, and of course, Fallout. I've been playing the originals for quite some time, and I have taken a rather strong interest in New Vegas, as well as its addons.
I promote military reform, economic growth, ambitious public works projects and peasants' rights. I also promote beating savages to death with various types of weaponry.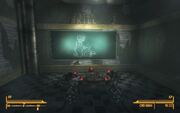 Community content is available under
CC-BY-SA
unless otherwise noted.