Split (reason: split the super hero group from the comics)

It has been suggested that this article or section should be split. Please help Nukapedia by discussing this issue on the article's talk page.
| | |
| --- | --- |
| | This is an overview article, listing content appearing across multiple games. |
The Unstoppables! is a magazine written before the Great War.
Background
The Unstoppables! is a comic book published by Hubris Comics prior to the Great War. The series chronicles the adventures of an ensemble cast of characters from the Hubris Comics roster, consisting of the Silver Shroud, Mistress of Mystery, The Inspector, Manta Man and Grognak the Barbarian. Together, they form the titular Unstoppables. The cover art for the magazine depicts imagery highlighting the heroes, villains, and the adventure of each issue. Unstoppables cost $15 per copy.
Volumes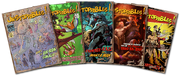 Issues

#1 - Dr. Brainwash and
His Army of De-Capitalists!

#2 -Who Can Stop The
Unstoppable Grog-Na-Rok?!

#3 - Commie-Kazi vs. Manta Man

#4 -Trapped in the Dimension
of the Pterror-dactyls!

#5 - [The Unstoppables!]
Visit the Ux-Ron Galaxy!
Behind the scenes
The comics may be inspired by comic book franchises based on having the publishers' various superheros team up to face powerful foes, such as DC's Justice League or Marvel's The Avengers.
The "$15 Cheap!" price point mirrors the "Cheap" claim under the price point of classic issues of Mad Magazine.
Gallery