| | |
| --- | --- |
| | For the character in Fallout 2, see Dragon. |
The Dragon is a weapon in Fallout 76.
Background
Edit
The Dragon is an antique-style muzzle-loaded rifle, firing a large bullet down an unrifled barrel. The Dragon is a unique, exceptional weapon, as it fires four projectiles at once. The sheer amount of power coming out of the Dragon with one pull of the trigger is enough to make it one of, if not, the most powerful ballistic weapon in the game.
Characteristics
Edit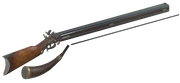 The Dragon is a rare black powder rifle which has four barrels, each loaded with a .50 caliber ball. It releases four projectiles per shot while consuming only 1 round of .50 caliber ball ammunition. The Dragon has an extremely long reload time, which each individual barrel being reloaded after every shot. On a per-shot basis, The Dragon is the strongest ballistic weapon in the game. However, its main drawback is its slow reload time.
Locations
Edit
The Dragon is no longer available in the normal legendary loot pool. Legendary versions could only be found in vault raid dungeons prior to their closing in Wastelanders. New legendary versions are currently unobtainable.
Community content is available under
CC-BY-SA
unless otherwise noted.