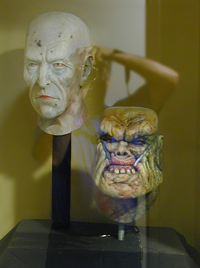 Talking head is a term referring to characters in Fallout and Fallout 2 with digitized speech and animated heads, rather than just text showing beneath a centered image of the character's sprite. These heads were typically first created as clay models, digitized using a Faro Space Arm and VertiSketch, touched up in theLightWave (early 3D modelling software), textured with Photoshop, animated, and finally stored as two-dimensional animation frames in .frm format.
The final talking head is composited from these frames and static pre-rendered backgrounds, then overlaid on the screen. The animation is lip-synced to the spoken dialogue on the fly, using .lip files, which match animation frames to phonemes.
Some of the voices for the talking heads were produced by well-known actors, such as Richard Dean Anderson from MacGyver and Stargate SG-1, and Michael Dorn who is known as Worf from Star Trek: The Next Generation.
This talking head system was abandoned after Fallout 2. In Fallout Tactics, interactions are limited to pre-determined responses accompanied by static portraits. From Fallout 3 onward, virtually every character is voiced and has a 3D model animated in real time.
Fallout
Fallout 2
Gallery
Fallout
Fallout 2
Talking head backdrops
Behind the scenes
In the NG GURPS preview article, the developers explained that, "after the team worked out exactly what it was after, a sculptor made a clay head that fit the bill. From there, the artists took the completed head and carefully studied it to see what parts of the face needed to be animated most in order to create a realistic final image. Using a Faro Space Arm and the VertiSketch software, the team digitized the head, and then used theLightWave modeling software to do necessary geometric corrections. Next, texture maps were created in Photoshop and laid onto the modeled head. Finally, the art team began working on the animation."
Talking heads were proposed during the game's development by Leonard Boyarsky. Most of them were painstakingly copied into the digital format from clay models by Scott Rodenhizer. Originally, Fallout was supposed to have 40-50 talking heads, but the average time to do one head, 8 weeks, was too time-consuming and was reduced to just 21.[1]
Gallery
References