This talk page is only for discussing improvements to the page "Graygarden homestead."

It is not the place for general discussion or sharing stories about the topic of this article. Please use our forum for these purposes.
Please sign and date your posts by typing four tildes (~~~~) after each of your entries.
Put new text under old text. Click here to start a new topic.
Do not edit other people's entries.

Please use our forum for discussion about related topics.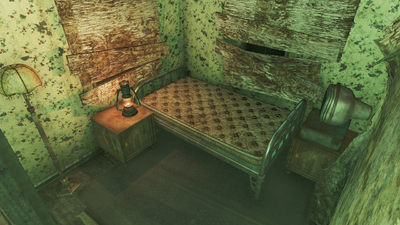 I have no way to find out, but I speculate this was related to a quest during development. I guess it was abandoned at some point, however. The inaccessible room is tiny and contains a bed (usable), no containers, and no items. I was able to access it using tcl, but I couldn't get unlock to work on the door.

if you go into the console, select the door and use the disable command the door will disappear.
It's used in Pinned. Lionheartedcat (talk) 22:25, December 31, 2015 (UTC)
Community content is available under
CC-BY-SA
unless otherwise noted.