| | |
| --- | --- |
| | This is an overview article, focusing on background information and cross-game comparisons. See articles on the right game-specific information. |
T-45 power armor is a power armor model in Van Buren, Fallout 3, Fallout: New Vegas, Fallout 4, and Fallout 76.
Background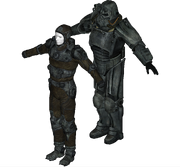 The T-45 powered combat infantry armor was the first design pressed into service in the Sino-American War,[1] with its first deployments taking place on the Alaskan Front to counter the Chinese offensive. The speed at which it had to be deployed, less than two years after the development of power armor began at West Tek, resulted in the creation of a stop-gap model utilizing existing technologies and manufacturing techniques. This temporary solution would eventually become the mainstay of American power armor units, especially as subsequent upgrades reduced the impact of the mobility problems that plagued the early production runs.[Fallout Shelter 1][Non-game 1] The original prototypes survived to 2077 and were slated to become literal museum pieces at the Museum of Technology on the National Mall in 2078.[2] Harold Frost, one of T-45's original designers, would later go on to design the Excavator power armor for the Garrahan Mining Company.[3]
The T-45 model D (its most popular variant) is designed for a single operator and is patterned closely after the human silhouette. It consists of three layers. The first is a black body suit worn by the operator for comfort, insulation, and protection from injuries that may be sustained during the armor's operation. The second layer of the armor is part of the power armor proper. Commonly referred to as recon armor when used on its own, it is a full body suit made of thick, processed fabric with integrated metal plating that serves as a platform for attaching the armor and on-board hardware.[4] The recon armor is, in effect, the underlying chassis of the T-45d power armor model. Its attachment points and power cell plug at the nape of the neck are essential for the operation of the full T-45d power armor, as the third layer consists of the armor, the fusion power cell, as well as the hydraulics and servomotors that allow the operator to carry heavy ordnance into combat and bear the weight of the armor. The helmet completes the third layer and includes an air filtration system, a bullet-proof vision slit,[5] an electric lamp, and external ports that allow the operator to listen to his surroundings and double as attachments points for extensions. The standard upgrade is a drop-down ocular.[6][Non-game 2]
The ability to operate crew-served weapons and heavy ordnance alone is one of the key advantages offered by the T-45d power armor. Although the T-45d (and indeed, no power armor to date) had no built-in weapons, the operator could use any kind of weapon that could be fired by an infantryman.[Non-game 1] Protection came in second. The use of steel plating offered a considerable advantage against most small arms and used existing technologies and materials, allowing the U.S. to quickly manufacture and deploy T-45d suits.[6] However, the armor had its limits and as the war with China dragged on, it became insufficient in both the ability to deploy firepower and protect the operator. However, as the T-51 power armor model did not arrive until 2076, the T-45d became the workhorse of the American military and a test-bed for related technologies.[Non-game 1]
Following the Great War, the T-45d power armor became a rare sight and a powerful asset for anyone who can procure such a suit. The principal operator of the armor is the Brotherhood of Steel and its children chapters, with the largest known numbers being utilized by the rogue Lyons' Brotherhood of Steel and the loyalist Outcasts. In general, off-duty troops and trainees prefer to wear the armor without the armored layer, allowing them to quickly deploy when needed, but without the encumbrance of full power armor.
Variants
T-45a model
An early version of the standardized T-45d, the T-45a model is similar in design to its successors.[Fallout Shelter 2] In-game, it offers less performance and protection than later models.
In Fallout 4, the T-45a model is seen rusted and deteriorating, dissimilar to the later T-45 models with gray metal chassis and increased protection in-game.
T-45d basic model
The workhorse of the Brotherhood of Steel, the standard T-45d offers good performance and has been often modified by its owners for personal use. The most basic modification is alteration of the sigils on the armor's pauldrons:
An upgrade of the standard T-45d power armor model, using the revised T-47 model (A variant). Although the external shell remains the same as in T-45d models, the MP upgrade was designed to reduce the volume of training necessary to operate power armor effectively, through the use of an onboard computer with a verbal feedback system.[7]
More importantly, the MP upgrade included an automated delivery system for various medical substances (Stimpaks and other injectables), and was planned to offer enhanced command level data collection system for field officers, and a self-destruct system that would kill deserters wearing the armor through lethal injection. Unfortunately, the only extant prototype was made before the defense contract was extended for the company that developed the upgrade, and is only capable of injecting Med-X.[7]
In game terms, the suit will use Med-X from the player's own inventory whenever their health drops beneath 33% or a limb's condition falls below 25%. The injection cannot cause addiction.
Outcast model
Modified by the Brotherhood Outcasts to improve recognition at range, this T-45d power armor boasts a dark black livery with red accents and Outcast emblems on the pauldrons. It is worn with a matching Outcast recon armor, though the Outcasts tend to wear the armor regardless of their duty status.
Tribal power armor
An unique, informal variant of the standard T-45d, as a result of the god-like status of Ishmael Ashur of The Pitt. Without access to proper workshops and raw materials, Ashur had to maintain his T-45d power armor in working order with whatever was at hand. The end result is an unique, copper-colored suit with yellow accents, and a patchwork of fixes and replacement parts, the most noticeable of which include the sleeve and glove of the raider iconoclast armor in lieu of a proper left arm, a brahmin skull instead of the left pauldron. Copies of the armor were created basing on salvaged T-45d suits by Ashur's faithful, in the image of their ruler.[8]
NCR salvaged power armor
A post-War variant of the standard T-45d, created out of suits salvaged from fallen Brotherhood of Steel Paladins by the New California Republic Army during the Brotherhood War. Although damage to the armored shell has been repaired, Army technicians have stripped out the joint servomotors and replaced the back-mounted fusion cell with a custom-made unit. Troops outfitted with the armor are slow and clumsy, but they are capable of taking a lot of punishment and remain in combat. To limit friendly-fire incidents, the armor's pauldrons were removed and identification markings (the Bear and Star on the chest and red stripes on the arms) painted on the armor.[9]
Sierra power armor
An unique variant of the standard T-45d power armor fielded by the New California Republic Army, the Sierra power armor is exceedingly rare and to date only a single soldier, Colonel Royez, is known to have used one. Instead of the base dark grey color of the T-45d, the Sierra power armor has an unique livery: Purple with golden accents on the edges, with additional neon green and red highlights on arbitrary points of the armor. A taxidermied bear's head has also replaced the left pauldron, held in place by a pair of bronze clips bearing the Republic's star.[10]
The Sierra power armor has been upgraded with additional onboard medical systems, helping regenerate the injuries of the user, and a back-mounted power pack superior to the production-run power cells the standard T-45d uses.[11]
Behind the scenes
Gallery
References
Fallout canon in a nutshell
Only released games constitute core canon, binding for the developers.
All non-game sources or additional information are non-binding for the developer. They are categorized separately as supplementary or dependent sources, unless included in a released game.
Cancelled games and games struck from continuity are explicitly classified as non-canon.
Non-game
Fallout Shelter
Cancelled
Italics denote armors only available through add-ons. Headwear is found in articles of matching armor where possible.
Power armor
Broken power armor

 ·

Remnants power armor (Gannon family Tesla armor)

 ·

T-45d power armor (Brotherhood T-45d power armor, Scorched Sierra power armor)

 ·

T-51b power armor (Brotherhood T-51b power armor)
Other armor
Armor of the 87th Tribe

 ·

Assassin suit (Stealth suit Mk II)

 ·

Chinese stealth armor

 ·

Combat armor (Combat armor, reinforced, Combat armor, reinforced mark 2, US Army combat armor, Van Graff combat armor)

 ·

Desert Ranger combat armor

 ·

Joshua Graham's armor

 ·

Leather armor (Lightweight leather armor, Gecko-backed leather armor, Gladiator armor)

 ·

Leather armor, reinforced (Gecko-backed leather armor, reinforced)

 ·

Marked patrol armor

 ·

Marked scout armor

 ·

Marked tribal armor

 ·

Marked trooper armor

 ·

Metal armor (Lightweight metal armor, Gecko-backed metal armor)

 ·

Metal armor, reinforced (Gecko-backed metal armor, reinforced)

 ·

Raider armor (Tribal raiding armor)

 ·

Recon armor (Broken recon armor) (Christine's CoS recon armor)

 ·

Riot gear (Advanced riot gear, Elite riot gear)

 ·

Sierra Madre armor (Sierra Madre armor, reinforced)
Headwear
Atomic-valence tri-radii-oscillator

 ·

Bandana (Jessup's bandana)

 ·

Beret (1st Recon beret, Boone's beret)

 ·

Boomers cap

 ·

Boomers hat

 ·

Boomers helmet

 ·

Breathing mask (Ulysses' mask)

 ·

Caleb McCaffery's hat

 ·

Centurion helmet

 ·

Chalk's headdress

 ·

Combat helmet

 ·

Construction hat

 ·

Cowboy hat

 ·

Dapper gambler hat

 ·

Destroyed collar

 ·

Explorer hood

 ·

Explosive collar

 ·

Fancy gambler hat

 ·

Fiend helmet (Fiend battle helmet, Fiend warrior helmet, Motor-Runner's helmet)

 ·

Gannon family Tesla helmet

 ·

General Oliver's hat

 ·

Great Khan spike helmet

 ·

Head wrap

 ·

Hockey mask

 ·

Legate helmet (Marked beast eyes helmet, Marked beast face helmet, Marked beast helmet, Marked beast tribal helmet)

 ·

Metal helmet (Metal helmet, reinforced)

 ·

Motorcycle helmet

 ·

Police hat

 ·

Park ranger hat

 ·

Party hat (Destroyed party hat)

 ·

Pre-War baseball cap

 ·

Pre-War bonnet (Vikki's bonnet)

 ·

Pre-War hat (Vance's lucky hat)

 ·

Riot gear helmet (Ranger helmet, Desert Ranger combat helmet, Advanced riot gear helmet, Elite riot gear helmet)

 ·

Prime helmet

 ·

Prime decanus helmet (Recruit decanus helmet, Veteran decanus helmet)

 ·

Raider helmet

 ·

Ranger hat (

 ·

Rebreather

 ·

Remnants power helmet

 ·

Salt-Upon-Wounds' helmet

 ·

Salvaged power helmet

 ·

Sheriff's hat

 ·

Slave scarf

 ·

Suave gambler hat

 ·

Stylish gambler hat

 ·

T-45d power helmet

 ·

T-51b power helmet

 ·

Trooper helmet (Goggles helmet, MP trooper helmet)

 ·

Valence radii-accentuator

 ·

Vexillarius helmet

 ·

Welding helmet

 ·

Well-heeled gambler hat

 ·

White Glove Society mask

 ·

White mask
Glasses
Authority glasses (Dean's glasses)

 ·

Biker goggles

 ·

Eyeglasses

 ·

Reading glasses (Dr. Klein's glasses, Dr. Mobius' glasses)

 ·

Sunglasses (Lucky Shades)

 ·

Tortiseshell glasses
Headwear is found in articles of matching armor where possible. Italics denote add-on armor or clothing.
Community content is available under
CC-BY-SA
unless otherwise noted.