Fallout Interactive Experience
Play Sound
A survival tent is a movable camp in Fallout 76. It is exclusive to members of Fallout 1st.
Characteristics
The survival tent is a small tent that contains a stash box, a sleeping bag, a cooking station, and a scrapbox. Depending on the tent, it may also include an instrument or/and a tinker's workbench.
Usage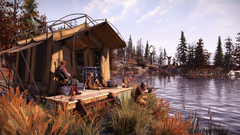 Survival tents are used to create a mobile fast travel point that the player can deploy nearly anywhere in Appalachia. They can be placed or moved by opening the Favorites wheel and pressing the appropriate button. Survival tent placement is only enabled for Fallout 1st members.[1]
If the survival tent placement is invalid, the device will be outlined in red. Otherwise, the survival tent will be outlined in green, indicating a valid placement. A survival tent can be moved to a different location by redeploying and unlike the C.A.M.P., this option is free. Once placed, the player will have a personal forward camp in an area centered on the survival tent.
The player can place their survival tent outside wherever there is a relatively flat terrain that is not near existing structures nor in a restricted area. The survival tent cannot be placed inside or near a C.A.M.P., Workshop or fast travel locations. The immediate area around Vault 76 and the Whitespring Golf Club are examples of restricted areas. Survival tents can be in closer proximity to one another than is allowed for C.A.M.P.s.
Locations
The survival tent is "acquired" by the player on their way out of Vault 76. There is a pile of survival tents behind the stand, but none of these can be taken.
Players can use survival tents placed by others on the same server.
Players can fast travel to tents belonging to their teammates.
Behind the scenes
The survival tent was developed from documentation to release by systems designer Matt Cesario.[2]
Bugs
[verified]
The Abandoned Shack's scrapbox is placed backwards, facing the wall.
Gallery
Image needed (Image of tent modules in Vault 76 (req. new character))

This article is missing an image. You can help

Nukapedia

by

uploading

it.
References
↑

If the membership is expired, the tent will be automatically removed.