Split (reason: Super mutant behemoth (Fallout 4))

Article suggested to be split into independent articles as outlined above.
"
I am a Super Mutant! I am unstoppable!
"
— Super mutant war-cry
Institute super mutants are the variant of super mutant found throughout the Commonwealth, Nuka-World and the Island in 2287. These mutants were created by the Institute by means of exposure to the Forced Evolutionary Virus (FEV). They are large, muscle-bound creatures with innate immunity to radiation and disease. They are most frequently encountered in central Boston, and can also be found in Fallon's department store, Fort Strong, Trinity Tower, Revere satellite array, Big John's Salvage, The Gwinnett Restaurant and several other locations all throughout the Commonwealth, most of which can be identified by the telltale signs of hanging meat bags, twisted girders protruding out of the ground, cages and gory waste piles with which they enjoy decorating their surroundings.
In Far Harbor, a group of super mutants have traveled to the Island and are located in the Vim! Pop factory, National Park HQ and Aldersea Day Spa. Similarly, in Nuka-World, small bands of mutants can occasionally be found roaming the plains and foothills surrounding the amusement park, though they tend to stay outside its walls.
Background
"
Personal record, Dr. Brian Virgil. This will likely be my last recording. My requests to shut down the FEV program have repeatedly been denied. We've learned nothing useful in the last 10 years. I have to take matters into my own hands. What we're doing... it's not right. It needs to stop. If anyone should find this after... after I'm gone... know that I never wanted to hurt anyone. Anyone! Do you understand me? I'm going to make sure the whole program is shut down. If not for good, then at least for years to come. After that...I know what I'm about to do will be seen as a betrayal. Treason, he'll probably call it. So... I'm leaving. I have a plan... and if it works, I'll be somewhere safe. Somewhere not even the Coursers can find me. Everything that we've done, the lives we've taken... if there is a god, may he have mercy on us all.
"
— Dr. Brian Virgil, ex-Institute bioscientist
The super mutants of the Commonwealth are a different strain from Vault 87 super mutants and those created at Mariposa. While they possess the imposing musculature and resilience of the former, they have a level of intelligence on par with the dumber examples of the latter. Besides having similar habits of super mutants, such as caging prey and bagging body parts, they are also capable of following a chain of command, erecting fortifications,[1] and even setting up traps and ambushes - such as at Trinity Tower, where Fist deliberately used Rex Goodman as bait to lure humans and weed out the weak super mutants among his host. They are also capable of speaking like normal humans, unlike their brethren from the Capital Wasteland, and consider themselves the superior race of the Commonwealth.[Non-canon 1][2][Non-canon 2]
Origin
All Commonwealth super mutants are the result of the Institute's research into FEV,[3] which began in August 2178 under the auspices of Doctor Frederick. Research on samples acquired by the team was authorized by the directorate and the program began despite the objections of some members of BioScience.[4] Both women and men were abducted from the Commonwealth and submerged in the Institute's modified FEV, their mutations carefully tracked and extensively investigated. Successful mutations would be monitored to ensure survivability, then tagged and discarded.[5] In layman's terms, the Institute was simply releasing super mutants into the wild, creating a scourge on the Commonwealth that lasted for decades and still plagues the Commonwealth in 2287.[6] In fact, the first super mutants attacked human settlements as early as 2180.[7] Their actions were even more heinous considering the fact that in case the mutation destabilized, it would create horrifying behemoths: warped, immensely powerful giants with a fierce territorial instinct.[8]
This method of trial and error was used to perfect different strains of the FEV, with the overall goal of improving the synthetic organics program. The research was intended to produce effective synthetic organics, but it ground to a halt in March 2224. Despite perfecting two FEV strains, the accumulated radiation damage in test subjects provided an insurmountable barrier to further development.[9] Just three years later, in 2227, the organic synth project experienced a breakthrough due to the acquisition of Shaun and his undamaged pre-War genetic code. The third generation synth project was spun off from the FEV research initiative.
The FEV research effort continued for several more decades, despite producing no useful data, except for manufacturing more super mutants for the surface to contend with.[10] In April of 2286, Dr. Brian Virgil succeeded Dr. Syverson as head of the project, and it quickly became evident to him that the FEV program had run its course, having produced no new data within the past ten years. As Virgil's conscience took its toll, the scientist lodged a formal complaint with the directorate.[10] When no reaction came, Virgil rebelled and escaped the Institute after destroying as much of the project as he could,[11] which became known as "Incident V" within the Institute. He then proceeded to transform himself into a super mutant using a unique strain of FEV to flee into the Glowing Sea. The FEV program was finally ended after over one hundred years of abduction and experimentation. At the time of the Sole Survivor's arrival at the Institute, the research wing remains in a security lockdown.
Characteristics
Biology
"
You humans made us - now suffer for your arrogance!
"
— Super Mutant battle cry
Their mouths are depicted as being closed much like Marcus, unlike the super mutants which carry a permanent snarl. Furthermore, in regards to previous appearances, specifically the super mutants, these super mutants are smaller, standing 7 feet (2.13 m) tall[citation needed], have a darker skin tone and appear more scrawny and with less pronounced muscles. The biggest Institute super mutants are the behemoths who stand approximately 13 feet (4 m) tall[citation needed].
The existence of the behemoths suggests a link with the Vault 87 strain of FEV, as they are the only super mutants known to continue growing with age. However, the green-brown coloration is closer to that of the Mariposa super mutants, specifically resembling the super mutants seen in Fallout: New Vegas. Institute behemoths differ from those seen in the Capital Wasteland by muscle growth specific to the right arm and a spinal formation that results in an uneven stance. The intelligence of Institute behemoths seems to be higher than their Capital Wasteland cousins as in the specific case of Grun, a behemoth who successfully led a small army of super mutants from the Commonwealth and to The Island.[Non-canon 3]
Intelligence
Unlike their counterparts from the Capital Wasteland, the Commonwealth mutants possess a relatively advanced understanding of armor, weapons and at least some minor knowledge of craftsmanship compared to their brethren. They appear to trade stronger physiques for the intelligence necessary to create and utilize weapons and armor, and even have access to reprogrammed security systems such as searchlights and automated turrets, not unlike their far-western cousins.
Higher-ranking super mutants show more intelligence than their brethren, speaking more eloquently, and utilizing some advanced tactics such as cover, shifting position and taking the high ground. They also are capable of following a chain of command, setting up traps and ambushes, and using human captives as bait. Their lesser brothers, however, will often ignore cover and simply try to get as close to an enemy as possible, even when armed with long-range weaponry.
While predominantly hostile to humans, like their counterparts in the Capital Wasteland, they do retain some capacity to coexist with humans; Strong and Erickson are examples of Institute super mutants attempting to integrate to human society, and even hostile mutant groups have been known to keep human prisoners as slaves or entertainment rather than simply killing them.
Like their Vault 87 brethren, Institute super mutants seem to comprehend on some level the possibility of their extinction and express an interest in locating FEV, or "green stuff," to produce more mutants and stave off this possibility.[Non-canon 4][12]
Gameplay attributes
Super mutants can randomly be encountered around the Commonwealth in small groups, usually raiding parties, which can attack settlements allied with the player character. Much larger groups can be found infesting various buildings throughout the wastes. They have developed a unique relationship with mutant hounds and will utilize these beastly creatures as attack dogs, usually encountered in groups of 1-3.[13] Mutant hounds are exclusively used by super mutants in the Commonwealth, instead of the centaurs that have normally accompanied them in past installments of the game series.
Lower-level mutants are normally armed with various pipe weapons, hunting rifles and Molotov cocktails. For melee, they will often utilize wooden boards.
Higher-level mutants can appear with heavier weapons such as miniguns, missile launchers, Gauss rifles, laser weapons, assault rifles and fragmentation grenades. For melee, they normally wield large sledgehammers and super sledges.
Variants
Super mutant
This is the most common and weakest variety of super mutant. They usually carry a pipe weapon or a board and drop minor and low-tech loot on death. They can often be found among more powerful varieties of super mutant such as skirmishers.
Name (Form ID)
Statistics
Behavior
Abilities
Items
Super mutant


000EDCC6
Super mutant suicider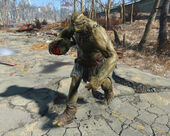 A super mutant that will run at its enemy with an armed mini-nuke attached to their arm via a chain. It will then detonate itself while in close proximity, killing its enemy and itself in a fiery, nuclear explosion. Shooting the mini nuke in the suicider's hand or targeting the right arm in V.A.T.S. will cause the mutant to explode prematurely, killing it instantly. As a result, shooting the bomb from afar is one of the most effective ways to dispatch them, and potentially other nearby enemies as well. If one is desperate to kill a suicider and the only weapon types available are unarmed and/or melee, the player may either sneak attack it, or run to it, strike it, step back a bit and repeat until it's dead (though the latter is not advised as one missed attack will allow the suicider to detonate the mini nuke, and accidentally hitting the mini nuke with either type of attack will detonate it). The suicider can be detected before it is seen by listening for the beeping of its mini nuke. If the suicider is killed without detonating the payload, which can be done with a headshot or body shot, a mini nuke can be looted from its corpse; otherwise, only nuclear material will be found on its remains.
Dying to a super mutant suicider's mini nuke will unlock the Touchdown! achievement.
Utilizing the Blitz perk, it is possible to kill the suicider in V.A.T.S. with a melee weapon before it explodes, even if it takes several hits.
Name (Form ID)
Statistics
Behavior
Abilities
Items
Super mutant suicider


0014AE58

Super mutant suicider


????????

Super mutant suicider


????????

Super mutant suicider


????????
Locations
The quantity and location of super mutant suiciders can be found here:
Super mutant skirmisher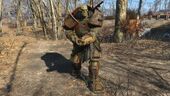 Super mutant skirmishers are significantly tougher than regular super mutants, taking more damage and usually carrying more powerful weapons. Skirmishers will appear more frequently once the Sole Survivor reaches level 10.
Name (Form ID)
Statistics
Behavior
Abilities
Items
Super mutant skirmisher


000EDCC7
Super mutant brute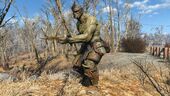 Super mutant brutes are a significant step up from skirmishers. Brutes, much like their namesake, take even more damage to put down and are far stronger than their lower-leveled brothers, and wear an aviator hat of some kind.
Name (Form ID)
Statistics
Behavior
Abilities
Items
Super mutant brute


000EDCC8
Super mutant enforcer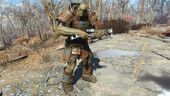 The super mutant enforcer is significantly stronger than the brute and is more likely to be more heavily armored than the lower-level super mutants.
Name (Form ID)
Statistics
Behavior
Abilities
Items
Super mutant enforcer


000EDCC9
Super mutant butcher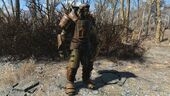 Super mutant butchers appear more often at higher levels. They are normally very heavily armored and often use heavy weapons and they are much stronger than the enforcer.
Name (Form ID)
Statistics
Behavior
Abilities
Items
Super mutant butcher


000EDCCA
Super mutant master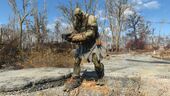 A force to be reckoned with, super mutant masters have an extremely high Hit Point pool and superior Damage Resistance compared to their weaker brethren. They are generally equipped with heavy weapons such as the missile launcher or minigun. They can be generally found in locations with a large mutant concentration, an example being Big John's Salvage.
Name (Form ID)
Statistics
Behavior
Abilities
Items
Super mutant master


000EDCCB
Super mutant overlord
A super mutant overlord is much stronger than most mutants. They may be seen traveling in pairs.
Name (Form ID)
Statistics
Behavior
Abilities
Items
Super mutant overlord


0004238B

,

0014238C




0014238D

,

0014238E




0014238F

,

00142390




0041238B

,

002483E5

Legendary super mutant overlord


0017E6F1

,

0017E6F0
Super mutant primus
The primus spawns at level 45+ and is seen with large groups of super mutants, most commonly at major super mutant outposts. They commonly wield super sledges or assault rifles, but may also be seen with missile launchers and, rarely, Fat Man launchers.
Name (Form ID)
Statistics
Behavior
Abilities
Items
Super mutant primus


0017E6F2
Super mutant warlord
The warlord is the most powerful super mutant variant, not counting behemoths. Their extremely high Hit Point total means that they can withstand multiple head or limb shots from extremely powerful weapons such as Gauss rifles without being crippled.
Name (Form ID)
Statistics
Behavior
Abilities
Items
Super mutant warlord


00142397

(laser rifle),

002483E7

(minigun)

68+

12

1535+

135+

80+

Immune

?

?
Behemoth
Behemoths are the most powerful super mutants by far, towering above any player, at around 13 feet (4 m) tall. These super mutants are the oldest and strongest of their kind and are many times larger than any other humanoid creature, almost as large as a mirelurk queen. Unlike regular super mutants, they will not speak; instead, they will make monstrous roars. They are armed with a fire hydrant mounted on a large pipe. Other than that, they have the ability to throw heavy boulders at their enemies. Either way, both weapons are heavy hitters and will cause major damage against any enemy smaller than them. They carry a cage made from shopping carts on their back, similarly to their Vault 87 counterparts, which they use to carry boulders that they use during combat.[Non-canon 5]
Name (Form ID)
Statistics
Behavior
Abilities
Items
Behemoth


000BB7DD

Melee (125 )

Throw boulder (75 )

Various junk items, weapons and ammo
Locations
Glowing behemoth
Glowing behemoths are highly irradiated and can damage enemies with radiation when nearby. Unlike other glowing enemies, this variant appears identical to regular behemoths. Their existence seemingly contradicts super mutants' established immunity to radiation.
Name (Form ID)
Statistics
Behavior
Abilities
Items
Glowing behemoth


0012B97A

Melee (156 )

Throw boulder (94 )
Epic behemoth
Epic behemoths are an immensely powerful variation of average super mutant behemoths, and, to some extent, are more intelligent in combat. They tend to appear in forest areas, which they may use to their advantage by hiding behind trees. They also will block their face with their hand quite often, especially when fighting at melee range, allowing for a chance to get in several hits. They are more upright than many standard behemoths in appearance, and although they are quicker, they use similar fighting techniques, such as smashing, knocking the player character down and hurling boulders. Aside from being able to sustain more damage, they can be crippled if low on health and will slump to the ground on their side, where they can be finished off.
Name (Form ID)
Statistics
Behavior
Abilities
Items
Epic behemoth


0012B97B

Melee (187 )

Throw boulder (112 )
Ancient behemoth
These behemoths are the toughest and oldest mutants found in the Commonwealth.
Name (Form ID)
Statistics
Behavior
Abilities
Items
Ancient behemoth


0012B97C

Melee (197+ )

Throw boulder (146+ )
Notable super mutants
Notes
If the Sole Survivor manages to shoot a suicider's mini nuke while hidden, it will not affect the detection status, even when the suicider explodes in direct sight of other mutants. They may start to investigate the body for a short period of time.
The mini nukes that super mutant suiciders carry are much larger than the standard mini nuke, appearing more similar to the Mark 28 nuclear bombs used by Liberty Prime and found inside the Sentinel site.
The Sole Survivor can find a semi-educated super mutant named Strong at the top of Trinity Tower. He can be recruited as a companion after completing the quest Curtain Call. Unlike super mutant companions from previous games, Strong is far from civilized, often stating his desire for mutants to kill all humans and mentions wanting "someone to eat" when hungry.
The noise of a suicider's mini nuke is comprised of two parts: a continuous beeping and a tone. This tone is a Shepard tone illusion, wherein the tone sounds like it is continually rising in pitch, but in reality, it is not and is just a loop.
Super mutants have been heard wishing to hunt humans not only for food but for sport, in contrast to their Vault 87 brethren which have only been seen to hunt for food and FEV fodder. While they occasionally kidnap settlers for a ransom of caps, this is likely a fault of radiant quest placement as they don't appear to have any need for conventional human currency, unlike raiders.
Super mutants refer to people in power armor as bucketheads, as they can sometimes be heard saying "Wish a buckethead would show up. I'd rip his legs clean off."
Super mutants appear in the ending slides.
The Commonwealth strain of super mutants have no way of replenishing their numbers (unlike the Mariposa and Vault 87 variants) as the Institute is no longer creating more, making them a doomed species.
Rocks thrown by behemoths will home in on their target, and cannot be avoided unless one is behind cover or out of range.
Notable quotes
"Bleed! Bleed and die!"
"Ha ha ha! You hit like a radroach!"
"Human time is done! This is the age of the Super Mutant!"
"I am a super mutant! I am unstoppable!"
"I'll wear your guts around my neck!"
"I'm going to eat your legs when you're dead, human!"
"I'm super mutant, you're super mutant, we're all super mutant."
"I'm gonna splatter your brains!"
"I'm gonna feast on your flesh, human!"
"Just stand still!"
"Kill you!"
"Only one of us survives this, and it won't be you!"
"Rage, rage!"
"Scream - Scream for your worthless life!"
"Stop moving, stupid man!"
"Stupid blue lady!"
"Suffer!"
"The Commonwealth is OURS!"
"This is no game, human! We win. You die."
"We are the future!"
"We are unstoppable!"
"Why you stupid humans always fight?!"
"You humans made us - now suffer for your arrogance!"
"You humans! So stupid! So weak!"
"You move too much!"
"You'll never leave here alive!"
"I'm going to eat you alive after I kill you!"
When attacking with a melee weapon:
"Break you!"
"Here it comes!"
"Smashie, smashie!"
When throwing a grenade:
"Catch!"
"Ha! Hot potato!"
"Throwing grenade!"
When a grenade is thrown:
"Get away, get away!"
"Gonna blow!"
"Gonna kaboom!"
"Run away!"
When taking damage:
When injured:
When dying:
When a comrade dies within a second's line of sight:
"Brother, nooooo!"
"Dead! No!"
"You killed my BROTHER!"
"He has fallen!"
When going from Hidden to Caution:
"A noise?"
"Come out, come out, wherever you are!"
"Someone there?"
"That sound! What is it?!"
"What?! Who's there?"
While in Caution:
"Here, human, human, human. I got a treat for you!"
"You're here, you're here! Stop hiding!"
When going from Caution to Danger:
"Can't escape me!"
"I knew it! Gonna tear you apart!"
"Now...I'm...Angry!"
"Snack Time!"
When going from Danger to Caution:
"Aggh... face me, you coward!"
"Hey! You disappear! No fair!"
"Where'd you go? Huh? Gonna find you! Gonna KILL you!"
When going from Caution to Hidden:
"Agh. Nothin'."
"Hmph. No fight today."
"Must have been nothin'."
"What, scared already?"
"You hide! No fair."
"No blood to spill today."
"Stupid noises."
Appearances
Institute super mutants appear in Fallout 4 and its add-ons Far Harbor and Nuka-World.
Bugs
[verified]
After detonating a super mutant suicider's mini nuke and killing nearby enemies, no additional XP is gained for these kills.
[verified]
Upon re-entering a world space where a super mutant suicider detonated, the super mutant may detonate again.
[verified]
After looting the mini nuke from a super mutant suicider, it may remain in his hand and may still detonate afterward.
[verified]
Stunning a super mutant in V.A.T.S. will result in it becoming stuck in a T-pose, unable to do anything but follow its target around while stuck in the pose, with occasional vocalizations from its dialogue options.
Gallery
References
Non-canon
West Coast
(Fallout, Fallout 2, Fallout: New Vegas)
Alien

 ·

Bighorner (Bighorner bull, Bighorner calf)

 ·

Bird

 ·

Bloatfly (Legendary bloatfly)

 ·

Brahmin

 ·

Cazador (Young cazador, Legendary cazador)

 ·

Centaur (Evolved centaur)

 ·

Coyote (Coyote alpha male, Coyote den mother, Coyote pup)

 ·

Deathclaw (Baby deathclaw, Young deathclaw, Blind deathclaw, Deathclaw alpha, Mother deathclaw, Intelligent deathclaw, Legendary deathclaw)

 ·

Dog (Cyberdog, Legion Mongrel, Vicious dog)

 ·

Fire ant (Fire ant worker, Fire ant soldier, Ant queen)

 ·

Floater

 ·

Fly

 ·

Gecko (Hunter gecko, Fire gecko, Golden gecko, Little gecko)

 ·

Ghost people (Ghost harvester, Ghost seeker, Ghost trapper)

 ·

Ghoul (Feral ghoul roamer, Feral ghoul reaver, Glowing one, Feral trooper ghoul)

 ·

Giant ant (Giant worker ant, Giant soldier ant, Giant ant queen)

 ·

Giant catfish

 ·

Giant rat (Mole rat, Pig rat)

 ·

Human (Dwarf

 ·

Lobotomite)

 ·

Lakelurk

 ·

Mantis (Giant mantis, Giant mantis nymph, Giant mantis female)

 ·

Marked man

 ·

Night stalker (Young night stalker, Den mother, Legendary night stalker)

 ·

Radroach

 ·

Radscorpion (Bark scorpion, Bark scorpion hunter, Small radscorpion, Giant radscorpion, Radscorpion queen)

 ·

Raven

 ·

Slags

 ·

Spore carrier (Spore carrier savage, Spore carrier brute, Spore carrier runt)

 ·

Spore plant

 ·

Super mutant (Mariposa) (Super mutant master, Nightkin)

 ·

Wanamingo

 ·

Tunneler (Tunneler queen)

 ·

Wolf

 ·

Yao guai
East Coast
(Fallout 3, Fallout 4, Fallout 76, Fallout Tactics 2)
Abomination

 ·

Alien

 ·

Alien squid

 ·

Alien worm

 ·

Angler

 ·

Beaver

 ·

Bee swarm

 ·

Bird

 ·

Bloatfly

 ·

Bloodbug

 ·

Bloodworm

 ·

Brahmin

 ·

Brahmiluff

 ·

House cat

 ·

Cave cricket

 ·

Centaur

 ·

Chicken

 ·

Crow

 ·

Deathclaw

 ·

Dog (Mongrel)

 ·

Fire ant

 ·

Firefly

 ·

Flatwoods monster

 ·

Fly

 ·

Fog crawler

 ·

Fox

 ·

Frog

 ·

Gatorclaw

 ·

Gazelle

 ·

Ghoul (Feral ghoul, Feral ghoul reaver, Feral ghoul roamer, Glowing one, Swamp ghoul)

 ·

Appalachian Floater

 ·

Ghoulrilla

 ·

Giant ant (Giant ant queen)

 ·

Giant catfish

 ·

Gorilla

 ·

Grafton monster

 ·

Gulper

 ·

Hermit crab

 ·

Honey beast

 ·

Human

 ·

Lamprey floater

 ·

Manowar tendril floater

 ·

Mega sloth

 ·

Mirelurk (Mirelurk hunter, Mirelurk king, Nukalurk, Swamplurk, Swamplurk queen)

 ·

Mole rat

 ·

Mole miner

 ·

Mothman

 ·

Mutant crocodile

 ·

Mutant hound

 ·

Mutant wanamingo

 ·

Needle tooth floater

 ·

Opossum

 ·

Rad chicken

 ·

Radgull

 ·

Rad rabbit

 ·

Rad-rat

 ·

Radtoad

 ·

Radroach

 ·

Radscorpion (Albino radscorpion, Giant radscorpion)

 ·

Radstag

 ·

Scorched

 ·

Scorchbeast

 ·

Sea creature

 ·

Snallygaster

 ·

Squirrel

 ·

Stingwing

 ·

Tick

 ·

Super mutant (Vault 87) (Super mutant behemoth, Super mutant brute, Super mutant master, Super mutant overlord)

 ·

Super mutant (Institute)

 ·

Super mutant (Huntersville)

 ·

Swampfolk

 ·

Trog

 ·

Wendigo

 ·

Wolf

 ·

Yao guai
Midwest
(Fallout Tactics, Van Buren)
Badger

 ·

Boom bug

 ·

House cat

 ·

Brahmin

 ·

Dog

 ·

Electro-beetle

 ·

Endless walker

 ·

Gehenna

 ·

Ghoul (Born ghoul, Feral ghoul, Glowing one)

 ·

Giant albino ant (Giant albino ant queen)

 ·

Giant leech

 ·

Giant rat

 ·

Giant wasp

 ·

Hairy deathclaw (Baby hairy deathclaw)

 ·

Human

 ·

Komodo dragon

 ·

Molech

 ·

Mountain lion

 ·

Mutant cannibal

 ·

Raccoon

 ·

Radroach

 ·

Radscorpion

 ·

Radtoad

 ·

Trog

 ·

Super mutant (Mariposa)

 ·

Wolf
Texas
(Fallout: BoS, Fallout: BoS 2)
Brahmin

 ·

Coyote

 ·

Dog

 ·

Experimental deathclaw (Baby experimental deathclaw)

 ·

Ghoul (Glowing one)

 ·

Giant rat (Mole rat)

 ·

Human

 ·

Radbug

 ·

Radscorpion (glowing radscorpion, spitting radscorpion, large giant radscorpion)

 ·

Small rat

 ·

Giant rat

 ·

Super mutant (Mariposa)
Project V13
Ghoul

 ·

Human

 ·

Mutant mantis shrimp

 ·

Super mutant (Project V13)
Fallout Shelter
Bat

 ·

Deathclaw

 ·

Feral ghoul

 ·

Ghoul

 ·

Human

 ·

Mole rat

 ·

Cat

 ·

Dog

 ·

Parrot

 ·

Radroach

 ·

Radscorpion

 ·

Super mutant