"
Later this year, the Brotherhood of Steel returns to Appalachia in search of new technology. The continuation of the story arc started in Steel Dawn will introduce new NPCs, quests, and companions to the West Virginia Wasteland.
"
— fallout.bethesda.net
Steel Dawn is the sixth major update for Fallout 76. It features the return of the Brotherhood of Steel to Appalachia, and is the first chapter in a two-part Brotherhood storyline.[1] It was released on November 24, 2020, on all platforms. It follows One Wasteland For All and was followed by the Locked & Loaded update, and its direct sequel update Steel Reign was released on July 7, 2021.
Plot
The Brotherhood of Steel's First Expeditionary Force, led by Paladin Leila Rahmani, finally arrives in Appalachia after just over three months trekking across the country on foot. Sent by High Elder Roger Maxson, the First Expeditionary Force seeks to re-establish the Brotherhood's presence in Appalachia, and to provide assistance to the people living there. As the Vault Dwellers assist or deter the Brotherhood in their goals, the realities of the returning faction, and how it will interact with others, will become much more apparent.
Development
Plans were first made for Steel Dawn's story in 2019, and the story went through several iterations. As part of their "writers' room" set-up for creating stories, the design team at Bethesda Game Studios Austin wrote many intricate backstories and attributes to be reflected by the characters in Steel Dawn.[2]
Music
The soundtrack for Steel Dawn was composed by Inon Zur and was released for sale and streaming on February 4, 2021.
Features
Quests
Characters
Allies
Creatures
Robots and computers
Factions
a The formal name for the post-rebellion Brotherhood has not yet been defined and should not be treated as definitive.
b The formal name for the residents of Treehouse Village has not yet been defined and should not be treated as definitive.
Locations
Items
Miscellaneous items
Armor and clothing
Armor
Clothing
Backpack
Backpack flair
Weapons
Consumables
Plans and recipes
Plans
Recipes
The following notes were added to the game as part of the Wastelanders update, however in Steel Dawn, picking up these notes unlocks crafting of the associated food item.
Holotapes
Notes
Keys and passwords
Paint schemes
World objects
C.A.M.P. objects
Brahmin plushie
Condemned notification sign
Molerat wind chime
Musket stack monument
Princess castle pink sleeping bag
Red truck ceiling light
Brotherhood roundtable

Vault doors

Vault floors

Vault power bank

Vault railings

Vault stairs

Vault utility room Shelter

Vault walls

Vault welcome mat

Asylum light

Crowd bench seats
Emmett Mountain Disposal signs

Hello neon sign

Meat bag stash
Open neon sign
Poodle sleeping bag
Super mutant tube
Weight bench
Antique speed bag

Black rubber mat

Carpeteria Vault-Tec floor and foundations

Clean toilet

Clean industrial fan

Clean hospital bed

Clean office cabinet

Framed Scribe of Avalon gameboard

Guild of Antiquities stein

Heavy Vault door

Herringbone wood floor and foundations

Red Rocket Mini Mart

Scavenging station - Gold Bot

Vault bed

Vault desk

Vault fireplace

Vault nightstand

Vault tile white floors

Vintage Shelter wallpaper

Wasteland gong
Notes
Set to be released on December 1, 2020, the Steel Dawn patch was released early in error to Xbox players on November 24. The update was subsequently released early for all platforms.[7]
Behind the scenes
Initially, Steel Dawn and Steel Reign were a single DLC. Due to the belief that a single DLC wasn't enough, the DLC was split into Steel Dawn and Steel Reign. Steel Dawn was to be followed by Fractured Steel. However, in September 2020, it was decided that the Fractured Steel story and quests would instead be merged into Steel Dawn to give players a more complete story and experience. Three parts were discussed at one point, but was limited to two parts.[8]
Gallery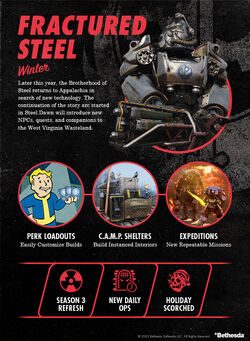 Videos
References