Fallout Interactive Experience
Play Sound
| | |
| --- | --- |
| | This is an overview article, listing content appearing across multiple games. |
A Stealth Boy is a personal stealth device.
Variants
RobCo Stealth Boy 3001

Invented by Robert Mayflower and produced by RobCo Industries, the wrist-mounted 3001 variant generates a modulating field that transmits reflected light from one side of an object to another.[1][2] The end result makes the wearer almost invisible to the untrained eye.[1][3][Non-canon 1]
Stealth Boy Mark II prototype

After the war, Doc Henry conducts research on the effects of the device, stating that although the prototype's purpose was to use less power.[4] Unintended negative effects of the device's modulating field include permanent neurochemical changes, such as schizophrenia, especially among Nightkin.[5][6][7][8] A chewed variant can be found in the Mojave's Charleston Cave.
Stealth Boy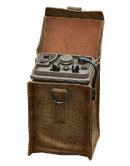 Existing as far back as 2075, Stealth Boys were developed by reverse engineering Chinese stealth armor.[9] The personal device generates a modulating refraction field, rendering the wearer invisible for a short period of time.[10]
Railroad Stealth Boy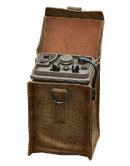 The secretive organization the Railroad gained access to a more powerful variant of the normal Stealth Boy. Their resident engineer Tinker Tom sells the devices to trusted agents.
Stealth Boy Mark III

Developed by Enclave scientists in Appalachia with the help of Chinese schematics and MODUS,[11] the Stealth Boy Mark III was an attempt to improve the Stealth Boy. While not wrist-mounted, the power consumption rate was drastically lowered from the Mark II Stealth Boys allowing for longer duration.[11]
Phantom Device

A satchel model Stealth Boy modified by the Order of Mysteries with a cloud of HalluciGen gas that cloaks the user, frenzying nearby enemies.[12]
Notes
The device is also mentioned in the rulebook for Fallout: The Roleplaying Game.[Non-canon 2]
Behind the scenes
Gallery
References
Non-canon
↑ Fallout: The Roleplaying Game Rulebook p.171: "One of the most interesting technologies developed before the War, the Stealth Boy 3001 is a compact device which generates a modulating refraction field which transmits light from one side of the field to the other. The result is near-perfect active camouflage, ranging from a sort of distorted transparency when moving to almost total invisibility when stationary. The Stealth Boy was reverse engineered from captured Chinese Stealth Armor during the War, and while the technology was never perfected—even the most advanced Stealth Boy consumes its battery in around 30 seconds—it was still seen to be reliable enough for service. Long-term use of Stealth Boy technology has been observed to cause permanent neurological changes, resulting in paranoid delusions, hallucinations, and other mental changes."