Fallout Interactive Experience
Play Sound
Spooky Scorched is a limited-time community event in Fallout 76.
Overview
Spooky Scorched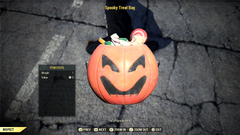 Some of the Scorched will dress up in their most frightening attire, with bone-chilling holiday music heralding their arrival. Take them down to claim their spooky treat bag and mystery candy.
Any Scorched which spawns in an exterior location (including events) has a 10% chance to be a Spooky Scorched,[1] which will always spawn as Legendary enemies:

★ (55%)
★★ (40%)
★★★ (5%)

Spooky Scorched may wear one of the following outfits:
Spooky Scorched will always be melee attackers using one of the following weapons:
Spooky Scorched will always drop the following items:
Trick-or-Treating
Throw on your best costume and go trick-or-treating in your neighborhood! Players may build the spooky candy bowl (available for free in the
Atomic Shop[2]) at their C.A.M.P.s and fill it with mystery candy, a special Halloween candy corn. The candy bowl will only dispense to players wearing costumes, once per trick-or-treater, per hour, per bowl. C.A.M.P.s with placed spooky candy bowls will be marked with the candy bowl icon, regardless of whether or not the bowl contains mystery candy.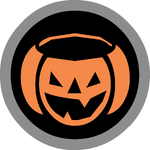 In addition to being dropped by Spooky Scorched, mystery candy may also be purchased from various vendors around Appalachia. It is best to stock up, because both daily and weekly challenges involving trick-or-treating will be running during the event.
Daring to eat a mystery candy will apply one of 5 effects at random:
Name
Effect
Lucky Break
+1 LCK for 10 minutes
Mystery Treat Surprise
You're blacking out!
Sugar Rush
+2 AGI for 10 minutes
-1 INT for 10 minutes
Sugar Strength
+1 STR for 10 minutes
Sugar Vision
+1 PER for 10 minutes
Costume apparel
Note: This list is not complete. For the full list of apparel items that count as costumes, see the references tab: ClothingTypeCostume (Nukacrypt, external link)
Note: these are the "ARMO" records
BOS camouflage infantry hood

Communist officer's raider skull gas mask

Cuddles the Clown outfit

Cuddles the Clown mask

Deep cave hunter outfit
Pioneer Scout hat: Squirrel

Pioneer Scout Squirrel shorts

Pioneer Scout Squirrel skirt

Pioneer Scout Squirrel uniform

Ribbon tall top hat

Tall top hat
Rewards
Spooky treat bag
Uncommon rewards (50% chance) (1)
Rare plans (15% chance) (1)
Pumpkin plans (80% chance) (1)
Rare costumes (10% chance) (1)
Rare costumes (15% chance) (1)
Contextual ammo (100% chance) (1)
Random quantity based on ammo type
Random aid (33% chance) (1)
Random brew (33% chance) (1)
Random candy (100% chance) (1)
Random grenade (33% chance) (1)
Challenges
Availability
| Start | End |
| --- | --- |
| October 19, 2021 | November 9, 2021 |
Behind the scenes
Spooky Scorched were first revealed on August 19, 2021 in the Making Appalachia Your Own with Fallout Worlds developer dive video.[3]
Bugs
Scorched. As a result, their hands look human.[verified]
Spooky Scorched are not using outfits dedicated to be worn by
Legendary enemies during the Spooky Scorched event. Although they may or may not be assigned the "Legendary" nameplate prefix, they will always have the ★ icon and drop Legendary items.[verified]
Standard Scorched enemies may rarely spawn as
[verified]
The 60 minute cooldown for taking candy from a specific spooky candy bowl is dispelled upon leaving the server.
[verified]
Scrapping the spooky candy bowl will dispel the 60 minute timer for any applicable players on the server.
popcorn machine cannot be crafted after unlocking it by completing the event challenge.[verified]
The
Gallery
Videos:
References