Fallout Interactive Experience
Play Sound
Shengqu Games, formerly known as Shanda Games, is a Chinese company that publishes and develops online games as a subsidary of Zhejiang Century Huatong. It created the Asian-exclusive sequel to Fallout Shelter, Fallout Shelter Online.
Background
The company was founded in late December 1999 as "Shanda Interactive Entertainment Limited," as part of Shanda Interactive. In 2009, it split from Shanda Interactive, which is now an investment firm. Shengqu Games has published and operated a number of notable games, including several MMORPGs. MapleStory, Aion, Ragnarok Online and The Legend of Mir 2 (its first project) were all published by the company in their Chinese versions. It was bought out by Zhejiang Century Huatong in 2017 and the company changed its named to Shengqu Games in 2019.
Games
Fallout Shelter Online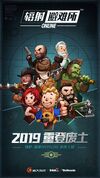 The sequel to Fallout Shelter, Fallout Shelter Online, was announced in May 2019 and is currently undergoing a closed beta limited to various Southeastern Asian and Oceanian nations.