Fallout Interactive Experience
Play Sound
Sal's Grinders terminal entries are a series of entries found on terminals in Sal's Grinders in Fallout 76.
Sal's personal terminal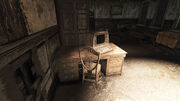 Note: This desk terminal is located on the wood desk in the second floor office.
|=======================|
| Welcome Sal! |
|=======================|
Personal Journal
|=======================|
| Personal Journal |
|=======================|
Opening Day!
Opening Day is here! Can't believe it. The paint is barely dry, but we are ready to sell some subs to the boys running the automatons in the mines.

Look at me now, Dad! You never thought I'd amount to a hill of beans after quitting the mine, but here I am. This is one Jefferson that won't be dying from crawling into a deep dark hole. You never did believe in my passions, but at least you taught me to make a mean sandwich. Now we've just got to get the word out.
First Month
What a month! That cash register got quite the workout downstairs. Grace was a life saver taking the orders and running the front. It's been a madhouse for the both of us, but I couldn't be happier.

Dad's old secret family recipe is the real hero. We've been running through cranberries almost faster than we can get them trucked in from the Bog, but those suckers have that tang that keeps them coming back. Of course a sandwich monopoly on this town doesn't hurt either.
What a Joke
Almost didn't believe it when I saw his blasted sign going up a stone's throw away. "Big Papa Moe's Lip Smackin' Sandwich Shack"?! First off: Who the heck is Moe? Charlie never had a Moe in his life that I know of. At least he didn't when I was sharing a classroom with him.

That slime ball never made an honest buck in his life and he has the nerve to not only open a shop, but do it RIGHT ACROSS THE BLASTED STREET!? Not only that, but he's advertising a Cranberry sandwich! There's no way he can beat my recipe. He's going to be laughed out of town.
What is Happening!?
2 years into business and I'm hitting my second month in the red. I don't even want to look at my records any more. Much less update them. I've sunk everything into this place. And yet it's still not enough.

What is Charlie doing?! What's he putting in those subs? I've had one and though you'd never hear me say it out loud, it's better than mine. But why?! What's the ingredient in that sauce? Whatever it is, Beckley is hooked and can't get enough. I've got to figure out where he is getting his supplies or I am done for. Can't believe I'm falling to Chucklehead Charlie.
One More Try
Grace left. Can't blame her. Not like I can pay her anyway. Haven't been able to for weeks and an IOU won't cover the rent. Sure would have liked to see her end up anywhere else then
across the street. Almost fell over seeing her wearing that idiotic Papa Moe's logo on her shirt yesterday.

That's it, I'm following that truck tonight. I know it's bringing his cranberries, but can't figure out from where. I've taken apart every ingredient in his sandwich and all that is whatever strain of cranberry he is using.
Nuclear
I can't believe it. Charlie is really doing it. He is using radiated Cranberries for his sandwiches. I knew he was slimy, but I had no idea he could stoop this low.

Couldn't believe it when I saw that truck at that abandoned quarry in the bog. Radiation warning signs everywhere and it went right through. Pulling out a few hours later with a full load to take to Charlie's kitchen.

It was bad enough that he was driving me out of business, but to feed Beckley poisoned food is the last straw. Can't wait to see the look on his face tomorrow morning when I let him have it.
Records
------------------------------------------------
Current Balance:
------------------------------------------------
-2,500.22

------------------------------------------------
History:
------------------------------------------------
Current Year:
Q2: - $2302.00
Q1: - $115.00

Previous Year:
Q4: +$145.03
Q3: +$1201.15
Q2: +$3103.04
Q1: +$6128.24
:HQ-RELAY-BRAVO:
Note: These entries were added with the Wild Appalachia update. They correspond to the quest Baa Baa Black Sheep.
Check-in #61
| TYPE: //TRANSMISSION:to:[HQ-RELAY-BRAVO]//
| STATUS: //NORMAL//sent//
|________________________________

H.Q.,

This is Wolf.
Relocated base of operations to a shop in Beckley.
Owner MIA. Employees MIA. Customers MIA.
The place is empty. Correction, the place is mine.
Unrest in Beckley should keep snoopers away.
If not, I can chase them off myself.

Wolf out
Check-in #62
| TYPE: //TRANSMISSION:to:[HQ-RELAY-BRAVO]//
| STATUS: //NORMAL//sent//
|________________________________

H.Q.,

Wolf.
Blacksheep continues to demonstrate incompetence.
Overall assessment of progress is unsatisfactory.
Assessment of Bo-Peep's handling of this case is unsatisfactory.
They'll be given one more chance.
Final demonstration soon. Will keep you informed.

Wolf out
(!!!) Check-in #63
| TYPE: //TRANSMISSION:to:[HQ-RELAY-BRAVO]//
| STATUS: //NORMAL//sent//
|________________________________

H.Q.,

Wolf here.
Peep didn't make our meeting. Checking last known location.
Will leave next report at the Lewisburg dead drop.
May need backup. Refer any to next report.

Wolf out
View Reply
| TYPE: //TRANSMISSION:to:[HQ-RELAY-BRAVO]//
| STATUS: //NORMAL//sent//
|________________________________

Wolf,

H.Q. here.
Received new info of police investigation into Blacksheep.
Action may be required. Authorization granted.
Proceed with caution.

H.Q. out
Download Coordinates
Note: Accessing this command adds a location[clarification needed] to the map, if it is not already discovered. This also concludes the quest Baa Baa Black Sheep and starts the quest The Lowe-Down.
| TYPE: //TRANSMISSION:to:[HQ-RELAY-BRAVO]//
| STATUS: //NORMAL//
|________________________________

Downloading dead drop coordinates...