Cleanup (Issue: Missing Robots)

To meet

Nukapedia

'

s quality standards, this article or section may require cleanup. Please help by

improving

the article.
A robot is a machine that is capable of autonomously completing tasks. Depending upon the robot, these tasks may be simple or complex and may require little human intervention or complete oversight.
In the Fallout universe, robots had been constructed for many purposes, and many examples survived long enough to be a factor in the Fallout world.
Some of the robots in the Fallout universe will attack on first glance but most of the robots will just aid you in battle and come across friendly.
Robots had been constructed by pre-War society to fill all niches and occupations. From general-purpose utility droids to full-fledged military battle machines, robots could be found in almost any environment and function.
Background
Edit
At the time of the Great War, robots were just making their appearance in the average suburban household, but the military still had the largest number of active robots. The robots that are still running are found in isolated former military bases or ones that have been restored by settlements with the sophisticated technology needed to keep them running.[1]
Programming
Edit
Typically, robots are equipped with a basic programming structure that dictates behavior and priorities. In most cases, these rules are effectively set in stone, and there's little the player can do to influence them. However, robots can also develop personalities. Whether this is an intended feature present from manufacturing or the cumulative result of centuries of poorly-attended operation is unclear. Some robots, such as the Nuka-Cola shipping foreman appear to have rather harsh personalities present from their first days of activation, while others, such as the protectron series seem to have little personality at all. At times, this personality seems to operate at odds with the fundamental core programming of the robot.
Notable examples of this discontent include Cerberus, the Mister Gutsy robotic soldier that patrols Underworld. Despite programming to protect the ghouls of the city, Cerberus nevertheless admits quite freely that it detests the ghouls and, were it not for his combat inhibitor, would likely kill them all. Sawbones, resident medic at the Citadel, has an unhealthy interest in pain driven by his personality, while his programming states he is a medic. Many robobrains, when fighting will say things like "They could have programmed me to love, to forgive; but noooooo.", or "Please believe me when I say I'm not enjoying this.". Robots can even exhibit finicky personalities, one such Mister Gutsy Sergeant RL-3 will exhibit distaste in anyone without neutral Karma.
Even robotic butlers show contrary streaks, although these aberrations are less likely to cause grievous bodily injury. The butler present in the player's home in Fallout 3 is often overheard saying with a cheery voice "How can I serve you master?" while muttering, "Not that I really want to..." a little while after.
Robots are often pressed into emergency duty outside their normal menu of skills, although this meets with varying degrees of success. A general-maintenance Mister Handy will likely make a poor medic.
It may also be noted that without proper supervision, robots may handle situations rather extremely. Metro protectron will kill an unarmed person if they do not have a ticket, on top of this they do not accept red pass or blue passcards, meaning someone traveling on these lines may be attacked even with proper authorization. Another note is that the Factory protectron mentioned on a computer terminal in The Pitt killed all the workers when they refused to leave the mill and their jobs. Also, Milo the shipping foreman, a type II Mister Handy robot, had trapped a group of employees in a locked closet to die, and for very minor infractions (taking a longer lunch break, for example). With this in mind it can be safe to say that robots of the Fallout universe do not follow Asimov's three laws of robotics, or if they do very loosely. It would seem that east coast robots have a naturally adverse attitude towards humans, or animated things in general- living or robotic, as all the robots feature a combat "inhibitor" meaning that the robots all exhibit an uncontrollable urge to kill, without the inhibitor anyway.
Dealing with robots
Edit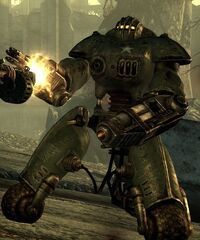 While some robots in the Fallout universe are peaceful, most are following centuries-old programming—or newer programming—that classifies the player as a threat. To that end, effective anti-robot combat strategies are a must.
Most robots are highly resistant to damage from conventional weapons. Bullets do not generally affect robots as severely as they do their organic masters, and militarized robots can generally shrug off grenade shrapnel. However, like all electronics, robots are vulnerable to the effects of an EMP, making pulse weapons the ideal choice for disabling a robotic enemy.
Pulse grenades, pulse mines, and 12 gauge EMP shells are ideal for disabling a robot quickly, and though these munitions are typically expensive, they are much more efficient in a cost-for-effect frame of mind. Explosive weapons like missile launchers or miniature nuclear weapons are effective, but more costly to use against robots.
Players with sufficient Repair skills, or certain perks can disable inattentive robots, while players with sufficient Science skills can often find control terminals that can shut down or reconfigure patrolling mechanical guards.
List of robots
Edit
Canceled robots
Edit
Behind the scenes
Edit
A robotic perk, Cyborg, makes an appearance in Fallout 3.
References
West Coast
Automated turret

 ·

Auto-cannon

 ·

Eyebot (ED-E, ED-E, Medical eyebot , Repair eyebot , Sunset Sarsaparilla eyebot)

 ·

Festus

 ·

Floating eye bot

 ·

Gun turret

 ·

Maintenance robot (Mobile facial recognition scanner)

 ·

Mister Gutsy (Hardened Mister Gutsy, Mr Steel, Ironbelly )

 ·

Mister Handy (Crazed Mister Handy, Mr. Janitor, PYTHON, Rhonda, Tour guide, Unit 462, Sparks )

 ·

Mister Orderly (Doctor Orderly MD PHD DDS )

 ·

PDQ-88b securitron (Jane, Marilyn, Victor, Yes Man, 010011110110111001100101 , Muggy )

 ·

Protectron (Bohr, Fisto, Primm Slim, Protect-O-Bot, Vendortron, Sunset Sarsaparilla security, Construction drone foreman , The Custodian )

 ·

Robobrain (Super-Ego )

 ·

Robo-scorpion (X-42 giant robo-scorpion)

 ·

Sentry bot (Hardened sentry bot, RY-589 Ultimo bot )

 ·

Think tank

 ·

Walking eye
Capital Wasteland
Android

 ·

Automated turret

 ·

Eyebot

 ·

Liberty Prime

 ·

Mister Gutsy (Cerberus, Deputy Steel, Sergeant RL-3, Sawbones, Hoover)

 ·

Mister Handy (Andy, Godfrey, Mister Buckingham, Milo, shipping foreman, Wadsworth)

 ·

Protectron (Button Gwinnett, Dean Dewey, Deputy Weld, Shakes, Thomas Jefferson)

 ·

Robobrain (Masterbrain)

 ·

Sentry bot (Sparky)
Commonwealth
Assaultron (Atom's Wrath, Iron Maiden, KL-E-0, Lady Lovelace, Predictive Analytic Machine)

 ·

Automated turret

 ·

Automatron (Ada )

 ·

Duelbot

 ·

Eyebot (Ol' Rusty, Peepers, Sonya, Sparks )

 ·

Gorilla

 ·

Junkbot

 ·

Mister Gutsy (The Boston Blaster, The Director)

 ·

Liberty Prime

 ·

Mister Handy (Assistant manager Handy, Atomic Dreamz, Bean, Bob's Your Uncle, Bosun, Cannery robots, Codsworth, Cook Handy, Crisp, Danny, Deezer, Front desk attendant, Fusion's Folly, Goodfeels, Greeter, Jasper , Kingpin, Lane, Maxwell , Oceanological instructor, Old Rusty, Penny , Percy, Piece o' Junk, Reg, Rupert , Sandy Coves attendant, Sebastion , Split, Sprocket, Strike, Supervisor Brown, Supervisor Greene, Supervisor White, Tenpin, The Champ, Torte, Waitron, Wellingham, Whitechapel Charlie)

 ·

Miss Nanny (Curie, Miss Edna, Molly, Pearl)

 ·

)

 ·

Protectron (Buddy, Eagle , First mate, Hawk , Hurtz , N.I.R.A. , One-Eyed Ike , Phosphate , Takahashi, The Giddyup Kid , Ticket taker , Tin Man, Tour bot)

 ·

Robobrain (Bert Riggs , Ezra Parker , Gilda Broscoe , Jezebel , Julianna Riggs , Keith McKinney , Santiago Avida , Spencer Lords )

 ·

Sentinel power armor

 ·

Sentry bot (Ahab , Gus, Ironsides, Porter , Sarge, Startender )

 ·

Swarmbot

 ·

Synth

 ·

Tankbot

 ·

Trashbot
Appalachia
Assaultron (Aloe, Flauresca, Lotus, Vera)

 ·

Automated turret

 ·

Cargobot

 ·

Eyebot (JES-2R , Levenson, Rover)

 ·

Liberator

 ·

Mr. Farmhand

 ·

Miss Nanny (Alexis, Bubbles, Carolyn, Cheryl, Chloe, Clarice, Cynthia, Miss Annie)

 ·

Mister Gutsy (Flintlock, Friedrich)

 ·

Mister Handy (Alderton, Beckham, Billingsley, Cavendish, Chief, Confederate guide, Crowley, Crutchley, Cunningham

 ·

Stratford)

 ·

Protectron (Antoine, Auto-miner (D3-B, H4N-K, J03-L, DU-K3, J-0ULE, L4R-E), Bernie, Blackwater auto-foreman, Boomer, Cap'n Kidd, Census taker, Mr. Fluffy)

 ·

Robobrain (The Boss)

 ·

Sentry bot

 ·

Vertibot

 ·

Supervisor Chattingham

 ·

Quercus
Midwest
Auto-cannon

 ·

Behemoth robot

 ·

Hover robot

 ·

Humanoid brain bot

 ·

Humanoid robot (Gloating robot, HR 1205)

 ·

Laser turret

 ·

Loadlifter robot

 ·

Pacification robot

 ·

Scurry robot

 ·

Security robot

 ·

Tank track robot
Texas
Assistant robot

 ·

Gun robot

 ·

Kamikaze robot

 ·

Laser robot

 ·

Maintenance robot

 ·

Service robot

 ·

Tesla robot

 ·

Turret robot
Alien
Alien turret

 ·

Experimental weapons drone

 ·

Guardian drone

 ·

Support drone
Community content is available under
CC-BY-SA
unless otherwise noted.