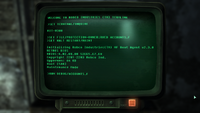 RobCo Industries Termlink is a protocol of the Unified Operating System, used to log into the system and recover lost passwords. It is also the main tool used in hacking terminals to gain access to otherwise restricted content and files.
Background
Edit
Termlink is a basic program allowing for rudimentary interaction with a given computer system. Apart from logging in, it also allows anyone with a rudimentary understanding of IT to force a reboot in maintenance mode and create a memory dump including the password for the terminal. This security loophole is prevalent in all terminals using the UOS.
The security loop is achieved as the Termlink initiates the MF Boot Agent initializing the RETROS BIOS which then allows access to the maintenance mode to completely reset a terminal's password. Since it is both an extremely simple and low-level computer utility, it is also a very powerful one that allows a user to bypass more complex systems and (in this case) their associated security protocols.
Error codes
Edit
In case the protocol encounters an error, it will display an error code. Error codes are prompted by 0x and then eight additional variables signifying the likely error cause which is then printed in a plain text message for the user.
External error codes
Edit
External error codes are prompted when an external device is malfunctioning when connected to a functional terminal. Termlink error codes take precedence over external devices and external error codes are only given when the device is faulty, such as a holotape or robot. External error codes are much shorter than terminal error codes stopping at three variables past 0x.
| Image | Code | Message attached | Purpose | Place where a terminal shows it |
| --- | --- | --- | --- | --- |
| N/A | 0x081 | Data loss detected. | Lost data from a holotape | Chestnut Hillock Reservoir, Edwin's terminal |
| N/A | 0x107 | Catastrophic physical damage detected. | Extensive damage to the external device | Vault 94, G.E.C.K. monitoring station terminal |
| N/A | 0x109 | A core meltdown is in progress. | Complete or partial collapse of the nuclear core, such as with a Garden of Eden Creation Kit | Vault 94, G.E.C.K. monitoring station terminal |
| N/A | 0x117 | Critical damage to mobility system. Unit is unable to move. | Servere damage to legs or propulsion jet | RobCo Battlezone, Robotics diagnostics terminal |
| N/A | 0x281 | Critical damage to targeting system. While in combat, unit will attack random targets. | Servere damage to Combat inhibitor | |
| N/A | 0x401 | Unknown | Unknown | Vault 94, G.E.C.K. monitoring station terminal |
| N/A | 0x402 | Unknown | Unknown | Vault 94, G.E.C.K. monitoring station terminal |
| N/A | 0x519 | Unknown | Unknown | Vault 94, G.E.C.K. monitoring station terminal |
| N/A | 0x509 | Unable to connect to the ABIS Biometrics ID Fabricator. | Disconnected or malfunctioning automated biometric identification system | Missile silo terminal entries, biometrics system terminal |
According to RobCo Termlink in Fallout 3 and Fallout: New Vegas, the boot agent was copyrighted by RobCo Ind. in 2201 and expired in 2203. This is improbable, due to the fact that RobCo Industries or any sort of legal system necessary to patent something did not exist 124 years after the Great War.
Appearances
Edit
The RobCo Termlink appears in Fallout 3, Fallout: New Vegas, Fallout 4, and Fallout 76.
Community content is available under
CC-BY-SA
unless otherwise noted.