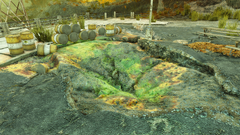 Resource deposits are the location of minerals found throughout Appalachia.
Characteristics
Edit
Deposits can be found regularly around all regions of the map, though certain resources are more prevalent in certain regions of the map. For instance, the Forest contains higher volumes of junk piles, and concrete and copper deposits while the Savage Divide contains more waste acid deposits. In particular, the Ash Heap contains the highest concentration of exposed ore. Deposits typically contain several pieces of ore of the deposit type, which is more than an ore vein typically provides.
A mineral extractor can be constructed to collect these resources. These deposits are frequently located within the boundaries of a claimable workshop. However, in most cases, these deposits are not near a workshop and it will be necessary to place a C.A.M.P. in close proximity in order to effectively mine them. In this case, a mineral extractor can be built as long as the deposit is within the build area. Crafting plans for the mineral extractors are automatically unlocked after completing a Claim Workshop event quest for the first time.
Locations
Edit
Acid


00322d02

Aluminum


000906c3

Black titanium


00322d01

Concrete


00322d05

Copper


00090011
Crystal


000958f8

Fertilizer


0008edfb

Gold


000906c6

Steel


0095aa39

Junk


00322d04
Lead


00095975

Oil


00322d03

Silver


00322d00

Uranium ore


00095a36

Wood


00322d06
Unique extractors
Edit
Appearances
Edit
Resource deposits appear only in Fallout 76.
Community content is available under
CC-BY-SA
unless otherwise noted.