The Ranger Sequoia is a weapon in Fallout: New Vegas.
Characteristics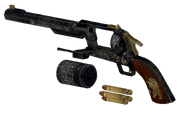 This large, double-action revolver is a rare, scopeless variant of the hunting revolver. It is used exclusively by the New California Republic Rangers and is carried only by an NCR Veteran Ranger after 20 years of service. This revolver features a dark finish with intricate engravings etched all around the weapon. Engraved along the barrel are the words "For Honorable Service," and "Against All Tyrants." The handgrip bears the symbol of the NCR Rangers, a bear, and a brass plate attached to the bottom that reads "20 Years."
Despite being a one-handed revolver, this is not a holdout weapon, meaning that, even at a Sneak skill of 100, it will not pass a search when entering a weapon-free location, such as a casino, where one is asked to turn over their weapons.
Durability
The Ranger Sequoia can fire a total of about 745 standard rounds, the equivalent of 149 reloads, from full condition before breaking.
Ammunition type
Durability
Shots
Reloads
Standard & HP
745
149
SWC
245
49
Variants
Comparison
Legend
- Weapon name (melee or unarmed)
- Attacks in V.A.T.S.
- Weapon name (gun, energy or explosive)
- Action point cost
- Damage per attack (damage per projectile)
- Damage per action point
- Damage per second
- Weapon spread
- Area of effect damage
- Magazine capacity (shots per reload)
- Effect damage & duration
- Durability (number of attacks before breaking)
- Bonus effects
- Weight
- Attacks per second
- Value in caps
- Critical chance % multiplier
- Value to weight ratio
- Critical damage
- Skill required
- Critical effect damage & duration
- Strength required
- With all mods attached
Locations
Notes
Behind the scenes
Joshua Sawyer stated that the hunting revolver and Ranger Sequoia are based on the Magnum Research BFR with a "little bit of the short-lived Bison Bull."[Non-game 1]
Bugs
Sounds
Gallery
References
Non-game