Fallout Interactive Experience
Play Sound
Radstags (although "stag" was once only used to refer to a male deer) are a species of mutated deer. These creatures live in Appalachia, the Commonwealth and the Island.
Background
The radstag is a mutation of the stag species that once inhabited the forests of the Eastern Seaboard of the United States. The mutation twisted them into mockeries of their former selves, with a secondary head forming like with brahmin, along with a pair of vestigial hoofed limbs protruding from its chest. Radstags typically avoid confrontation while grazing on the Commonwealth's grasses and shrubberies, preferring to flee any predators threatening them. However, when backed into a corner or otherwise forced to fight, it will stand its ground and use its horns to defend itself.[1]
Many populations of radstags are fundamentally flawed and permanently damaged by the mutations they suffered. The Island and Appalachia, for example, are home to erratic and devolved radstag herds, which have lost all of their fur, with skin hardened by radiation and exposure to the fog into leather. The degenerative mutations actually increase their resilience and ferocity, despite gaping holes in their bodies and malformed horns.[2]
Characteristics
Biology
Descended from deer, the radstag is primarily a prey creature. It's quite fast and resilient, requiring a bit of precision when hunting. This creature drops radstag meat and a radstag hide on death. They are dicephalic, or two-headed; each head is able to swivel and turn on its own. A closer inspection of the heads shows that each head's inner eye is blind. Radstags also have two underdeveloped legs hanging limply from their chest, qualifying them as hexapedal. Aside from the ability to bend when a radstag lays down, these legs are nonfunctional.
Radstag are usually brown-furred and patchy in places, with small pus-filled cysts from radiation, which most often cover the flanks, feet, heads and snouts. The cysts more frequently appear on the rabid and glowing varieties and can cover most of the body. Radstag yearling coats are more colorful than those of adult radstags and feature white spotting, similar to the fawns of their deer ancestors.
Variants
Albino radstag
Radstag yearling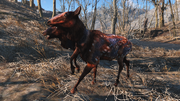 Radstag doe
Radstag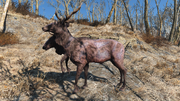 Rabid radstag
Glowing radstag
Erratic radstag doe
Erratic radstag
Devolved radstag doe
Devolved radstag
Sickly radstag
Observant radstag
The radstag sometimes appears in Follow the Trail random encounter and leads you to a small amount of treasure.
Appearances
Radstags appear in Fallout 4 its add-on Far Harbor and Fallout 76.
Gallery
References
West Coast
(Fallout, Fallout 2, Fallout: New Vegas)
Alien

 ·

Bighorner (Bighorner bull, Bighorner calf)

 ·

Bird

 ·

Bloatfly (Legendary bloatfly)

 ·

Brahmin

 ·

Cazador (Young cazador, Legendary cazador)

 ·

Centaur (Evolved centaur)

 ·

Coyote (Coyote alpha male, Coyote den mother, Coyote pup)

 ·

Deathclaw (Baby deathclaw, Young deathclaw, Blind deathclaw, Deathclaw alpha, Mother deathclaw, Intelligent deathclaw, Legendary deathclaw)

 ·

Dog (Cyberdog, Legion Mongrel, Vicious dog)

 ·

Fire ant (Fire ant worker, Fire ant soldier, Ant queen)

 ·

Floater

 ·

Fly

 ·

Gecko (Hunter gecko, Fire gecko, Golden gecko, Little gecko)

 ·

Ghost people (Ghost harvester, Ghost seeker, Ghost trapper)

 ·

Ghoul (Feral ghoul roamer, Feral ghoul reaver, Glowing one, Feral trooper ghoul)

 ·

Giant ant (Giant worker ant, Giant soldier ant, Giant ant queen)

 ·

Giant catfish

 ·

Giant rat (Mole rat, Pig rat)

 ·

Human (Dwarf

 ·

Lobotomite)

 ·

Lakelurk

 ·

Mantis (Giant mantis, Giant mantis nymph, Giant mantis female)

 ·

Marked man

 ·

Night stalker (Young night stalker, Den mother, Legendary night stalker)

 ·

Radroach

 ·

Radscorpion (Bark scorpion, Bark scorpion hunter, Small radscorpion, Giant radscorpion, Radscorpion queen)

 ·

Raven

 ·

Slags

 ·

Spore carrier (Spore carrier savage, Spore carrier brute, Spore carrier runt)

 ·

Spore plant

 ·

Super mutant (Mariposa) (Super mutant master, Nightkin)

 ·

Wanamingo

 ·

Tunneler (Tunneler queen)

 ·

Wolf

 ·

Yao guai
East Coast
(Fallout 3, Fallout 4, Fallout 76, Fallout Tactics 2)
Abomination

 ·

Alien

 ·

Alien squid

 ·

Alien worm

 ·

Angler

 ·

Beaver

 ·

Bee swarm

 ·

Bird

 ·

Bloatfly

 ·

Bloodbug

 ·

Bloodworm

 ·

Brahmin

 ·

Brahmiluff

 ·

House cat

 ·

Cave cricket

 ·

Centaur

 ·

Chicken

 ·

Crow

 ·

Deathclaw

 ·

Dog (Mongrel)

 ·

Fire ant

 ·

Firefly

 ·

Flatwoods monster

 ·

Fly

 ·

Fog crawler

 ·

Fox

 ·

Frog

 ·

Gatorclaw

 ·

Gazelle

 ·

Ghoul (Feral ghoul, Feral ghoul reaver, Feral ghoul roamer, Glowing one, Swamp ghoul)

 ·

Appalachian Floater

 ·

Ghoulrilla

 ·

Giant ant (Giant ant queen)

 ·

Giant catfish

 ·

Gorilla

 ·

Grafton monster

 ·

Gulper

 ·

Hermit crab

 ·

Honey beast

 ·

Human

 ·

Lamprey floater

 ·

Manowar tendril floater

 ·

Mega sloth

 ·

Mirelurk (Mirelurk hunter, Mirelurk king, Nukalurk, Swamplurk, Swamplurk queen)

 ·

Mole rat

 ·

Mole miner

 ·

Mothman

 ·

Mutant crocodile

 ·

Mutant hound

 ·

Mutant wanamingo

 ·

Needle tooth floater

 ·

Opossum

 ·

Rad chicken

 ·

Radgull

 ·

Rad rabbit

 ·

Rad-rat

 ·

Radtoad

 ·

Radroach

 ·

Radscorpion (Albino radscorpion, Giant radscorpion)

 ·

Radstag

 ·

Scorched

 ·

Scorchbeast

 ·

Sea creature

 ·

Snallygaster

 ·

Squirrel

 ·

Stingwing

 ·

Tick

 ·

Super mutant (Vault 87) (Super mutant behemoth, Super mutant brute, Super mutant master, Super mutant overlord)

 ·

Super mutant (Institute)

 ·

Super mutant (Huntersville)

 ·

Swampfolk

 ·

Trog

 ·

Wendigo

 ·

Wolf

 ·

Yao guai
Midwest
(Fallout Tactics, Van Buren)
Badger

 ·

Boom bug

 ·

House cat

 ·

Brahmin

 ·

Dog

 ·

Electro-beetle

 ·

Endless walker

 ·

Gehenna

 ·

Ghoul (Born ghoul, Feral ghoul, Glowing one)

 ·

Giant albino ant (Giant albino ant queen)

 ·

Giant leech

 ·

Giant rat

 ·

Giant wasp

 ·

Hairy deathclaw (Baby hairy deathclaw)

 ·

Human

 ·

Komodo dragon

 ·

Molech

 ·

Mountain lion

 ·

Mutant cannibal

 ·

Raccoon

 ·

Radroach

 ·

Radscorpion

 ·

Radtoad

 ·

Trog

 ·

Super mutant (Mariposa)

 ·

Wolf
Texas
(Fallout: BoS, Fallout: BoS 2)
Brahmin

 ·

Coyote

 ·

Dog

 ·

Experimental deathclaw (Baby experimental deathclaw)

 ·

Ghoul (Glowing one)

 ·

Giant rat (Mole rat)

 ·

Human

 ·

Radbug

 ·

Radscorpion (glowing radscorpion, spitting radscorpion, large giant radscorpion)

 ·

Small rat

 ·

Giant rat

 ·

Super mutant (Mariposa)
Project V13
Ghoul

 ·

Human

 ·

Mutant mantis shrimp

 ·

Super mutant (Project V13)
Fallout Shelter
Bat

 ·

Deathclaw

 ·

Feral ghoul

 ·

Ghoul

 ·

Human

 ·

Mole rat

 ·

Cat

 ·

Dog

 ·

Parrot

 ·

Radroach

 ·

Radscorpion

 ·

Super mutant