Radscorpions are creatures located in Texas in 2208.[1]
Background
Radscorpions are mutated from the North American Emperor scorpion,[2][3] which were common in many pet stores at the time of the Great War.[4] Contrary to many expectations, their venom grew more potent when they mutated rather than becoming diluted. Though considered nocturnal and sensitive to light, radscorpions can be found active during the daytime in the areas they inhabit.
Characteristics
Biology
A radscorpion is the first creature encountered by the player in the Carbon warehouse. The normal radscorpion and the glowing variant are not very dangerous, but the spitting radscorpion may deal great damage, especially if they attack as a horde. Larger, giant radscorpions appeared at first like a boss in the Carbon warehouse, and a semi-boss after in the Carbon crater.
Gameplay attributes
Radscorpions will usually attack from the front first and then try to flank the player. They are fast and difficult to escape, especially in a horde. It is easier to fight in cleared areas, they will have the advantage in steep areas.
Variants
Radscorpion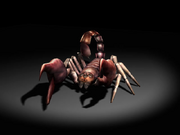 These are the most common variety of radscorpion. The color of their skin may be dark brown or grayish-blue. These venomous predators seem to possess different speeds, some taking their time and others bolting at top speed. Their size ranges from that of a large dog to that of small livestock. Variants in Chicago have been seen with their stingers sometimes having a green, glowing radioactive tip. They use their stingers most of the time and rarely use their claws.
Statistics
Glowing radscorpion
These types of radscorpions live in highly radioactive areas in Texas. Two known locations of this variant are found include the Carbon crater near the town of Carbon and the Secret Vault ruins (both areas have suffered a nuclear bomb and had many radioactive elements before). Similar to normal radscorpions, glowing radscorpions have been irradiated far past mutation to the point where they visibly glow even in bright sunlight (similar in the process to glowing one) and get a green aura and a light whitish-brown color. They are a bit more aggressive than the normal variety. Both their pincer claw attacks and stinger strikes subject the victim to high radiation exposure. Once dead, they release highly radioactive green smoke for three seconds. These variants can be found once again in the Commonwealth with a medium-rare occurrence of respawning to the player's location. They have similar abilities and strength to those found at "Carbon Crater" with the exception that they can no longer release radiation when killed or release it through their stingers. They can only emit low-level radiation when engaging in close battle and appear frequently if the difficulty is set high (Very hard and above).
Spitting radscorpion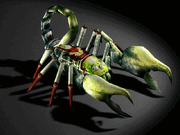 Spitting radscorpions are native to the Carbon crater near the town of Carbon, as well as the Secret Vault ruins. Much like the glowing radscorpions, they are the result of prolonged exposure to radiation. They have developed the ability to spit radioactive venom at great range. Their claws are severely underdeveloped and used generally for protecting the spitting radscorpion's head but they can still be used as a weapon if necessary. Spitting radscorpions are yellowish-green in color with a bright red coloring on their back and legs.
Statistics
Attack: 4-8 (claws) / 12-25 (radioactive venom)
Large giant radscorpion
Even larger giant radscorpion are rumored to live near the irradiated Carbon crater in Texas. High radiation levels and special environment in the crater have caused them to mutate to enormous size and develop traits uncommon to their kind. They are the biggest of all radscorpions, approximate to a large tractor-trailer in size. Their massive claws are used as both weapons and shields with extraordinary range and can block bullets. It has a big, reddish eye that sits in the center of their head and possesses an extremely robust exoskeleton. Strong and fast, they have only one known weak spot: the arms supporting their giant claws. If these limbs can be damaged or destroyed, they are left to rely on their deadly stinger alone.
Gallery
References
West Coast
(Fallout, Fallout 2, Fallout: New Vegas)
Alien

 ·

Bighorner (Bighorner bull, Bighorner calf)

 ·

Bird

 ·

Bloatfly (Legendary bloatfly)

 ·

Brahmin

 ·

Cazador (Young cazador, Legendary cazador)

 ·

Centaur (Evolved centaur)

 ·

Coyote (Coyote alpha male, Coyote den mother, Coyote pup)

 ·

Deathclaw (Baby deathclaw, Young deathclaw, Blind deathclaw, Deathclaw alpha, Mother deathclaw, Intelligent deathclaw, Legendary deathclaw)

 ·

Dog (Cyberdog, Legion Mongrel, Vicious dog)

 ·

Fire ant (Fire ant worker, Fire ant soldier, Ant queen)

 ·

Floater

 ·

Fly

 ·

Gecko (Hunter gecko, Fire gecko, Golden gecko, Little gecko)

 ·

Ghost people (Ghost harvester, Ghost seeker, Ghost trapper)

 ·

Ghoul (Feral ghoul roamer, Feral ghoul reaver, Glowing one, Feral trooper ghoul)

 ·

Giant ant (Giant worker ant, Giant soldier ant, Giant ant queen)

 ·

Giant catfish

 ·

Giant rat (Mole rat, Pig rat)

 ·

Human (Dwarf

 ·

Lobotomite)

 ·

Lakelurk

 ·

Mantis (Giant mantis, Giant mantis nymph, Giant mantis female)

 ·

Marked man

 ·

Night stalker (Young night stalker, Den mother, Legendary night stalker)

 ·

Radroach

 ·

Radscorpion (Bark scorpion, Bark scorpion hunter, Small radscorpion, Giant radscorpion, Radscorpion queen)

 ·

Raven

 ·

Slags

 ·

Spore carrier (Spore carrier savage, Spore carrier brute, Spore carrier runt)

 ·

Spore plant

 ·

Super mutant (Mariposa) (Super mutant master, Nightkin)

 ·

Wanamingo

 ·

Tunneler (Tunneler queen)

 ·

Wolf

 ·

Yao guai
East Coast
(Fallout 3, Fallout 4, Fallout 76, Fallout Tactics 2)
Abomination

 ·

Alien

 ·

Alien squid

 ·

Alien worm

 ·

Angler

 ·

Beaver

 ·

Bee swarm

 ·

Bird

 ·

Bloatfly

 ·

Bloodbug

 ·

Bloodworm

 ·

Brahmin

 ·

Brahmiluff

 ·

House cat

 ·

Cave cricket

 ·

Centaur

 ·

Chicken

 ·

Crow

 ·

Deathclaw

 ·

Dog (Mongrel)

 ·

Fire ant

 ·

Firefly

 ·

Flatwoods monster

 ·

Fly

 ·

Fog crawler

 ·

Fox

 ·

Frog

 ·

Gatorclaw

 ·

Gazelle

 ·

Ghoul (Feral ghoul, Feral ghoul reaver, Feral ghoul roamer, Glowing one, Swamp ghoul)

 ·

Appalachian Floater

 ·

Ghoulrilla

 ·

Giant ant (Giant ant queen)

 ·

Giant catfish

 ·

Gorilla

 ·

Grafton monster

 ·

Gulper

 ·

Hermit crab

 ·

Honey beast

 ·

Human

 ·

Lamprey floater

 ·

Manowar tendril floater

 ·

Mega sloth

 ·

Mirelurk (Mirelurk hunter, Mirelurk king, Nukalurk, Swamplurk, Swamplurk queen)

 ·

Mole rat

 ·

Mole miner

 ·

Mothman

 ·

Mutant crocodile

 ·

Mutant hound

 ·

Mutant wanamingo

 ·

Needle tooth floater

 ·

Opossum

 ·

Rad chicken

 ·

Radgull

 ·

Rad rabbit

 ·

Rad-rat

 ·

Radtoad

 ·

Radroach

 ·

Radscorpion (Albino radscorpion, Giant radscorpion)

 ·

Radstag

 ·

Scorched

 ·

Scorchbeast

 ·

Sea creature

 ·

Snallygaster

 ·

Squirrel

 ·

Stingwing

 ·

Tick

 ·

Super mutant (Vault 87) (Super mutant behemoth, Super mutant brute, Super mutant master, Super mutant overlord)

 ·

Super mutant (Institute)

 ·

Super mutant (Huntersville)

 ·

Swampfolk

 ·

Trog

 ·

Wendigo

 ·

Wolf

 ·

Yao guai
Midwest
(Fallout Tactics, Van Buren)
Badger

 ·

Boom bug

 ·

House cat

 ·

Brahmin

 ·

Dog

 ·

Electro-beetle

 ·

Endless walker

 ·

Gehenna

 ·

Ghoul (Born ghoul, Feral ghoul, Glowing one)

 ·

Giant albino ant (Giant albino ant queen)

 ·

Giant leech

 ·

Giant rat

 ·

Giant wasp

 ·

Hairy deathclaw (Baby hairy deathclaw)

 ·

Human

 ·

Komodo dragon

 ·

Molech

 ·

Mountain lion

 ·

Mutant cannibal

 ·

Raccoon

 ·

Radroach

 ·

Radscorpion

 ·

Radtoad

 ·

Trog

 ·

Super mutant (Mariposa)

 ·

Wolf
Texas
(Fallout: BoS, Fallout: BoS 2)
Brahmin

 ·

Coyote

 ·

Dog

 ·

Experimental deathclaw (Baby experimental deathclaw)

 ·

Ghoul (Glowing one)

 ·

Giant rat (Mole rat)

 ·

Human

 ·

Radbug

 ·

Radscorpion (glowing radscorpion, spitting radscorpion, large giant radscorpion)

 ·

Small rat

 ·

Giant rat

 ·

Super mutant (Mariposa)
Project V13
Ghoul

 ·

Human

 ·

Mutant mantis shrimp

 ·

Super mutant (Project V13)
Fallout Shelter
Deathclaw

 ·

Feral ghoul

 ·

Ghoul

 ·

Human

 ·

Mole rat

 ·

Cat

 ·

Dog

 ·

Parrot

 ·

Radroach

 ·

Radscorpion

 ·

Super mutant