| | |
| --- | --- |
| | This is an overview article which contains background information and cross-game comparisons. For game-specific information and stats, see the articles linked on the right. |
Great American cockroaches, colloquially called radroaches, or giant cockroaches, are giant versions of the pre-War species that have been mutated by radiation.
Characteristics
Radroaches are usually found in underground areas and sewers across North America, which can cause them to be a pest in certain Vaults, where they can often be found in fairly large groups. Radroaches feed on dead organisms, but they will attack living creatures if isolated. Their numbers are their greatest advantage. Radroaches live mostly in the areas east of California.
It is said that radroach innards are useful in the treatment of radiation poisoning, and are widely used by tribals for this purpose.
Variants
Radroach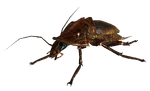 These radroaches are commonly found in the wasteland and look similar to real-life cockroaches. Radroaches were enlarged extensively by mutation, to the point that they are now as large as housecats.
They are generally little more than a nuisance to Wasteland survivors and are less than likely to pose a challenge. Radroaches are territorial and rather aggressive, but not very harmful. Anyone can kill them with their bare hands, and will only attack if you are very close; despite this, Vault 101 security personnel usually are no match for around 3 radroaches at once and will be easily disposed of. This is seen during Escape!
On one of the childhood quests in Vault 101, the Lone Wanderer, on their 10th birthday, is tasked with killing one with a BB gun given to them by Jonas Palmer as a birthday present.
Irradiated radroach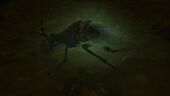 The irradiated radroach is identical to the standard radroach, with the exception of a radioactive aura, similar to that of a feral ghoul reaver. In addition to this, they hold the ability to heal themselves with a radiation blast similar to a glowing one. On death, it drops irradiated radroach meat, which gives extra radiation when consumed.
Giant cockroach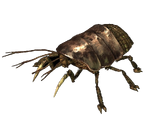 In the Midwest, mutant cockroaches are a common sight in the Wasteland. As in the Capital Wasteland, they can be encountered nearly everywhere, from old buildings to plains. However, they are drastically different and more dangerous than those met in the Capital Wasteland. They have a big, protected main body and small legs, and their saliva is incredibly toxic. They are very aggressive and attack every human unlucky enough to encounter them.
The Midwestern giant cockroaches are more varied than their Capital Wasteland cousins. Their size can also vary - they can be as small as their relatives in the Capital Wasteland or as big as an adult human.
Roachor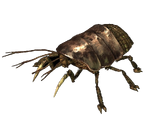 Roachor is a unique giant cockroach encountered by the Warrior of the Brotherhood of Steel. It is an "advanced" version of a large cockroach, which lived in the Peoria facility. It appears Roachor was affected by the high amount of radiation coming from a strange production device which was used in manufacturing fusion batteries. He is bigger than any large radroach—the same size as a car—and his body glows with a greenish radioactivity. His poison is deadlier than that of Midwestern radroaches.
Appearances
Radroaches appear in Fallout 3, Fallout: New Vegas, Fallout 4, Fallout 76, Fallout Tactics and Fallout Shelter, and were to appear in Van Buren. They were also mentioned in Fallout Bible 1.
Behind the scenes
Their inclusion in the Fallout series is probably a nod to the common myth that cockroaches could survive a nuclear apocalypse.
In real life, cockroaches are noted for their relatively high resistance to radiation—about five to ten times that of humans. However, there are other insects and arachnids even more resistant to radiation, including fruit flies and scorpions. Their resistance to radiation can be explained through their cell-cycle. A tissue-cell is most vulnerable to radiation when it divides, but the cells of a cockroach only divides once every time it molts.
Gallery
West Coast
(Fallout, Fallout 2, Fallout: New Vegas)
Alien · Bighorner (Bighorner bull, Bighorner calf) · Bird · Bloatfly (Legendary bloatfly) · Brahmin · Cazador (Young cazador, Legendary cazador) · Centaur (Evolved centaur) · Coyote (Coyote alpha male, Coyote den mother, Coyote pup) · Deathclaw (Baby deathclaw, Young deathclaw, Blind deathclaw, Deathclaw alpha, Mother deathclaw, Talking deathclaw, Legendary deathclaw) · Dog (Cyberdog, Legion Mongrel, Vicious dog) · Fire ant (Fire ant worker, Fire ant soldier, Ant queen) · Floater · Fly · Gecko (Hunter gecko, Fire gecko, Golden gecko, Little gecko) · Ghost people (Ghost harvester, Ghost seeker, Ghost trapper) · Ghoul (Feral ghoul roamer, Feral ghoul reaver, Glowing one, Feral trooper ghoul) · Giant ant (Giant worker ant, Giant soldier ant, Giant ant queen) · Giant catfish · Giant rat (Mole rat, Pig rat) · Human (Dwarf · Lobotomite) · Lakelurk · Mantis (Giant mantis, Giant mantis nymph, Giant mantis female) · Marked man · Night stalker (Young night stalker, Den mother, Legendary night stalker) · Radroach · Radscorpion (Bark scorpion, Bark scorpion hunter, Small radscorpion, Giant radscorpion, Radscorpion queen) · Raven · Slags · Spore carrier (Spore carrier savage, Spore carrier brute, Spore carrier runt) · Spore plant · Super mutant (Mariposa) (Super mutant master, Nightkin) · Wanamingo · Tunneler (Tunneler queen) · Wolf · Yao guai
East Coast
(Fallout 3, Fallout 4, Fallout 76, Fallout Tactics 2)
Abomination · Alien · Alien squid · Alien worm · Angler · Beaver · Bee swarm · Bird · Bloatfly · Bloodbug · Bloodworm · Brahmin · Brahmiluff · Cat · Cave cricket · Centaur · Chicken · Crow · Deathclaw · Dog (Mongrel) · Fire ant · Firefly · Flatwoods monster · Fly · Fog crawler · Fox · Frog · Gatorclaw · Gazelle · Ghoul (Feral ghoul, Feral ghoul reaver, Feral ghoul roamer, Glowing one, Swamp ghoul) · Ghoulrilla · Giant ant (Giant ant queen) · Giant catfish · Gorilla · Grafton monster · Gulper · Hermit crab · Honey beast · Human · Lamprey floater · Manowar tendril floater · Mega sloth · Mirelurk (Mirelurk hunter, Mirelurk king, Nukalurk, Swamplurk, Swamplurk queen) · Mole rat · Mole miner · Mothman · Mutant crocodile · Mutant hound · Mutant wanamingo · Needle tooth floater · Opossum · Rad chicken · Radgull · Rad rabbit · Rad-rat · Radtoad · Radroach · Radscorpion (Albino radscorpion, Giant radscorpion) · Radstag · Scorched · Scorchbeast · Sea creature · Snallygaster · Squirrel · Stingwing · Tick · Super mutant (Vault 87) (Super mutant behemoth, Super mutant brute, Super mutant master, Super mutant overlord) · Super mutant (Institute) · Super mutant (Huntersville) · Swampfolk · Trog · Wendigo · Wolf · Yao guai
Midwest
(Fallout Tactics, Van Buren)
Boom bug · Cat · Brahmin · Dog · Electro-beetle · Endless walker · Gehenna · Ghoul (Born ghoul, Feral ghoul, Glowing one) · Giant albino ant (Giant albino ant queen) · Giant leech · Giant rat · Giant wasp · Hairy deathclaw (Baby hairy deathclaw) · Human · Komodo dragon · Molech · Mutant cannibal · Raccoon · Radroach · Radscorpion · Radtoad · Trog · Super mutant (Mariposa) · Wolf
Texas
(Fallout: BoS, Fallout: BoS 2)
Brahmin · Coyote · Dog · Experimental deathclaw (Baby experimental deathclaw) · Ghoul (Glowing one) · Giant rat (Mole rat) · Human · Radbug · Radscorpion (glowing radscorpion, spitting radscorpion, large giant radscorpion) · Small rat · Giant rat · Super mutant (Mariposa)
Project V13
Ghoul · Human · Mutant mantis shrimp · Super mutant (Project V13)
Fallout Shelter
Deathclaw · Feral ghoul · Ghoul · Human · Mole rat · Cat · Dog · Parrot · Radroach · Radscorpion · Super mutant